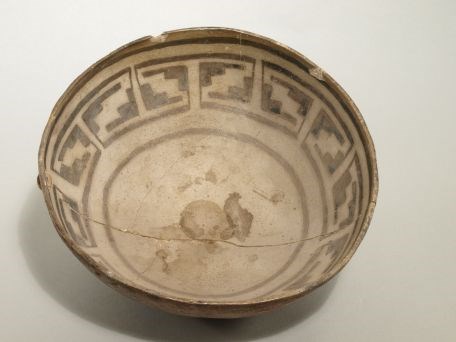 This photo of an artifact in the archeology collection shows a North Creek Black-on-gray bowl. This ceramic design style dates approximately AD 1100 to 1225. A bowl such as this may have been used to serve or eat food out of. It is possible that a family enjoyed many meals of hot corn and venison stew from this dish.

Pottery is well known for the information it reveals about the culture of the people who made it. A pot or jar's style and method of construction can often tell who made it, when and where. Differences in shape, materials, and painted designs reflect how closely affiliated different groups of people were, if and how they traded their pieces, and can show major cultural changes over time.
For many hundreds of years across the Southwest, almost all painted pottery was decorated with black geometrical designs on a white background. The design on this bowl is similar to those found at the spectacular cliff dwellings of Mesa Verde. Though the people who built those well-known stone villages lived 400 miles away by foot, they were part of the same Ancestral Puebloan culture as those who lived in Zion (the Virgin River branch of the Ancestral Puebloans.)



Return to Museum Collections of Zion National Park main page.