Frederick Samuel Dellenbaugh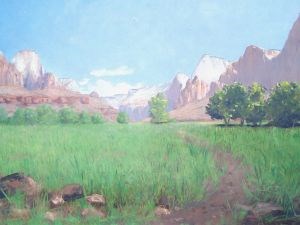 In 2006 Zion added an oil landscape painting of Zion Canyon completed in 1903 by Frederick S. Dellenbaugh to its museum collection. The painting was purchased at auction and donated to the National Park Service by the Zion National Park Foundation, the fund raising division of the Zion Natural History Association. The acquisition was funded through a grant from the George S. and Dolores Doré Eccles Foundation. Dellenbaugh's painting is a rare illustration of the canyon before it was established as Mukuntuweap National Monument in 1909.; showing cultivated fields where roads and buildings are now located. The George S. and Dolores Doré Eccles Foundation and the Zion National Park Foundation also provided funding for conservators to stabilize this historic painting, allowing it to be exhibited safely. The painting is on exhibit at the St. George Art Museum from August 2008-January 2009 and will be permanently exhibited in the park in the future.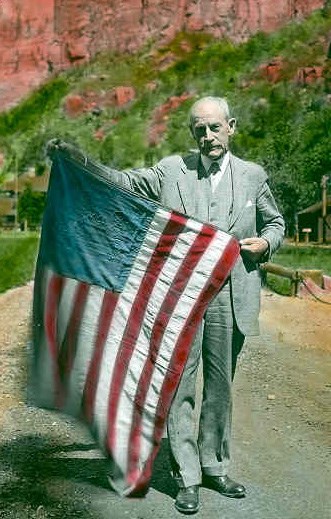 Frederick S. Dellenbaugh was an early artist and topographer of the American West. He served as an assistant topographer with Major John Wesley Powell's second expedition of the Colorado River from 1871-1873. He spent the summer of 1903 painting Zion Canyon. In the January 1904 edition of Scribner's Magazine, Dellenbaugh introduced the nation to Zion Canyon with these words:
"One hardly knows just how to think of it. Never before has such a naked mountain of rock entered into our minds! Without a shred of disguise its transcendent form rises preeminent. There is almost nothing to compare to it. Niagara has the beauty of energy; the Grand Canyon, of immensity; the Yellowstone, of singularity; the Yosemite, of altitude; the ocean, of power; this Great Temple, of eternity—"
Dellenbaugh's paintings and the Scribner's article contributed to President William Howard Taft's proclamation creating Mukuntuweap National Monument on July 31, 1909. In 1919, Congress changed the name and established Zion National Park.
Last updated: October 28, 2021