Civilian Conservation Corps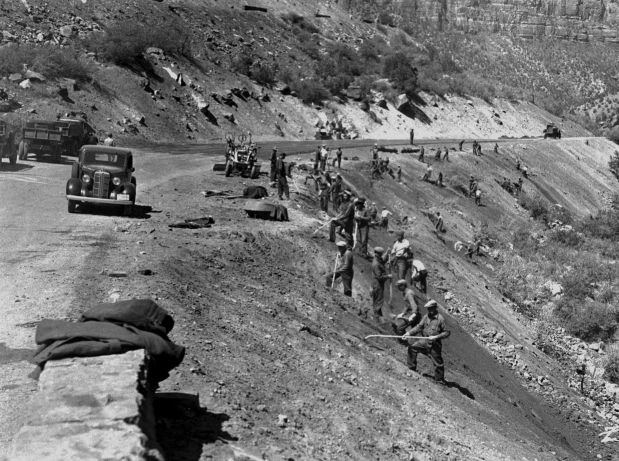 1933 brought great change to our country and Zion National Park. The Great Depression was ruling the country with a 25% unemployment rate and many people simply struggling to survive. In the midst of this national tragedy, a plan was developed by newly elected President Franklin Roosevelt to revive the people of this country and to improve our public lands. The Civilian Conservation Corps (CCC) was developed to take young, unemployed men and put them to work on public lands while providing them with skills needed to obtain future employment. The Museum Collections allows us to explore the CCC's contributions to Zion.
Pictures, writing, and special objects in the museum collection provide opportunities to gain first hand knowledge of the work and lives of the CCC men. We can find out what they valued and how they viewed the work that they were completing. Without their contributions to this park, many visitors would not get to see the extensive beauty that Zion offers. During their nine years at Zion they built and improved many of the Zion Canyon's trails, created parking areas, fought fires, helped build campgrounds, built park buildings, and reduced flooding of the Virgin River. Pictures taken by CCC men allow glimpses into the hard, back breaking work required to complete these tasks.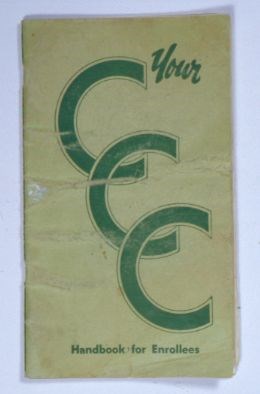 The collections also provide glimpses of the benefits the men received. In exchange for their contributions to the park, men were given food, shelter, clothing, and $30 a month. CCC men kept five dollars and $25 was sent home to their family. By today's standards this is a small amount of money but in 1933, bread cost only five cents. Beyond material objects, men also gained a sense of pride, camaraderie, and independence as a result of their time in the CCC at Zion National Park.


Civilian Conservation Corps Pennant

Civilian Conservation Corps Diary

Civilian Conservation Corps Camp
Last updated: August 3, 2020