Plan A Field Trip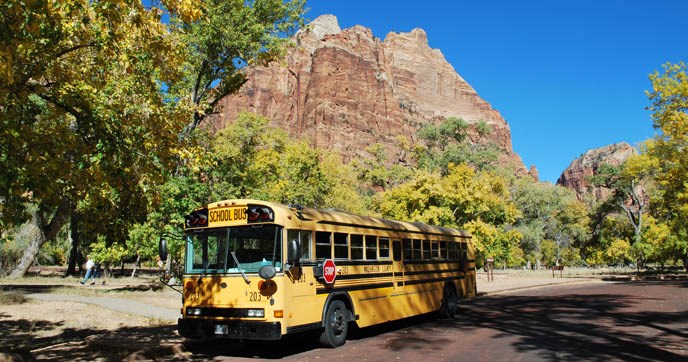 Fees
Some groups visiting for educational activities will not be charged provided they are sponsored by accredited educational institutions. A fee waiver or fee exemption should be requested three weeks in advance. For forms and guidelines, visit Academic Fee Waivers.

Hiking
Hiking in Zion There are many easy trails suitable for larger groups in Zion National Park. For a map and trail descriptions, download the park newspaper.

To allow for meaningful connections to the park resources, we recommend no more than one class of students (20 - 30) on the same part of a trail at a time. One adult chaperone for at least every 10 students is highly recommended. Maximum group size limits for specific trails and park areas are listed on the Academic Fee Waiver.
Logistics
Be Prepared
Any visit to Zion will include some outdoor walking and exploring. Students should wear sturdy, closed-toe shoes. Hats and sunscreen are recommended on sunny days and rain gear on cloudy days. Each child should carry a water bottle.
Restrooms
Available at the Zion Canyon Visitor Center, Zion Museum, Zion Lodge, Grotto Picnic Area, Weeping Rock, and Temple of Sinawava. Restrooms are not available along the trails. Use restrooms before hiking.
Picnicking
The Grotto Picnic Area, on the Zion Canyon Scenic Drive has picnic tables and restrooms. Please remember to search the area for litter when finished. Use recycling bins for aluminum cans.
Zion Canyon Shuttle System
The Zion Canyon Scenic Drive, past Canyon Junction, is closed to private vehicles from April through early November when the shuttle system is in operation. However, school groups traveling on school buses are allowed. This special consideration is for school buses only. Anyone in a van or passenger vehicle must travel on the school bus or use the shuttle system.
Help Preserve Zion
Everything in a national park is protected, from the rocks to the plants and animals. To ensure the protection of Zion and a memorable experience, please follow these guidelines.
Choose the Right Trail
Choose a trail that is best suited for the size, age, and ability of your group.
Stay On Established Trails
Walking off established roads and trails causes trampled plants and excessive erosion.
Wilderness Trail Use
Structured and/or formally guided activities facilitated by educational, commercial, or like organizations are authorized to occur on frontcountry trails. Such activities are not authorized to take place in park wilderness/back-country areas (Primitive and Pristine Zones).
Do Not Feed Wildlife
Feeding wild animals is illegal and can cause injury or death to the animal or the human. Keep your distance. Keep wildlife WILD.
Take Only Pictures, Leave Only Footprints
Enjoy rocks and flowers but leave for others to enjoy too. Do not carve or write on rocks.
Carry Out All Trash
Zion is your park. Help keep it clean and beautiful.

For additional ranger program information, please call (435) 772-3256.


Last updated: December 1, 2018