Traveling Trunk
Dinosaur Discovery Travel Trunk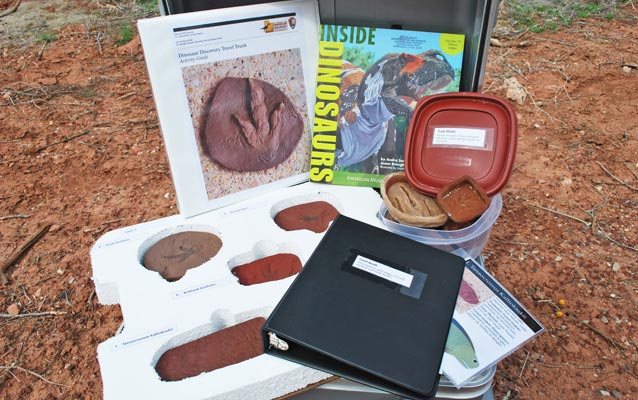 Zion National Park and the St. George Dinosaur Discovery Site at Johnson Farm are pleased to offer this Dinosaur Discovery Travel Trunk as a resource for Utah educators. The trunk contains nine different plaster replicas of dinosaur tracks and other fossils, and six molds of tracks that can be used to make impressions. A binder includes outlined activities, background information, laminated images, and resources. The discovery trunk also includes a Fossil Replica Guide, a Track Mold Guide, and an Image Guide.

The included curriculum may be used in part or in full. Teachers may find it useful to use all the activities, modify some activities, or use the background information and materials provided to create their own activities on the provided themes.
Borrowing Instructions
The Dinosaur Discovery Travel Trunk is available to schools for loan up to three weeks through the following site:

Zion National Park Education Office, Email: Barb_Graves@nps.gov

Teachers are responsible for picking up and returning the kit. There is no charge for the kit. For more information, please contact us at the above phone number or email.
Details
Subject:

Geology, Paleontology

National/State Standards:

Utah Core Curriculum Fourth Grade Science
Standard 4: Students will understand how fossils are formed, where they may be found in Utah, and how they can be used to make inferences.

Keywords:

paleontology, fossils, Dinosaurs

type:

Traveling Trunk
Last updated: March 22, 2016