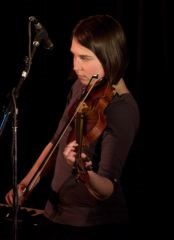 Artist Biography
Rachel Panitch founded and directs Rhode Island Fiddle Project, a free music program based in the Woodlawn neighborhood of Pawtucket, RI, teaching traditional fiddle and dance music to students ages 7-17. In 2009, Rachel completed a two-year Urban Musical Fellowship at Community MusicWorks in Providence, RI, which inspired and incubated RI Fiddle Project. She initiated and continues to direct Community MusicWorks' Summer Camps.
Rachel is an active contra dance fiddler who has recorded with a number of folk/roots bands including the Bourbon Boys, Tallahassee, Morris and the East Coast. She has collaborated recently with Bill Harley and with Neha Jiwrajka. Rachel's fiddling was part of the Emmy-nominated soundtrack for the 2009 PBS documentary "The Mosque in Morgantown."
A graduate of Vassar College, Rachel completed work in Anthropology and Music focusing on aural learning in folk music communities and the documentation of early American fiddle music. Rachel received her Masters of Music in Contemporary Improvisation from New England Conservatory in May 2013. She has studied with Carla Kihlstedt, Hankus Netsky, Nicholas Kitchen and Tanya Kalmanovitch.