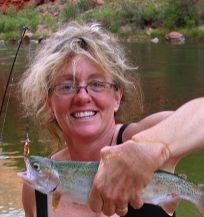 Residency Dates: September 3 - September 30, 2013
Artist website: www.studiokphx.com

Artist Bio: Kimberly's interest in art began in grade school and flourished in high school. After detouring into an architectural career, she began to develop her skills in watercolor, ceramics and metalwork with some formal study at local universities in Phoenix. In 1997, she formed her own design studio integrating architecture, interior design and art mixing a plethora of mediums and materials. For Kimberly, it is fun and exciting to explore new materials and ideas in sculpture, painting, ceramics and building. Design and the process of making and creating is her passion.

Kimberly's art and architectural work is inspired by her travels, love of the outdoors and passion for design. She has designed numerous restaurants, nightclubs and themed retail venues through Arizona and the southwest. Her artwork has been exhibited and represented in galleries throughout Arizona for the past 24 years. Her passion has expanded into the role of educator sharing her ideas and experiences with others.