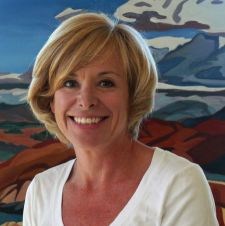 Evelyn McCorristin-Peters
Artist website: www.evelynmccpetersart.com
Artist Bio: The work of Evelyn McCorristin-Peters springs from a lifelong fascination and dedication to the natural environment. She creates to express commitment to the preservation of native flora and fauna in hopes of celebrating its diversity while documenting its fragility. Evelyn is originally from New Jersey and Delaware, and has now lived in the Sarasota/Manatee county area of Florida for over 25 years. She received a Bachelor's Degree from the University of Delaware and also attended The Pennsylvania Academy of Fine Arts and Ringling College of Art and Design.

In 1984 Evelyn began exploring the world, visiting 48 of the 50 states as a scenic artist with Ringling Brothers, Barnum & Bailey Circus, and through extensive travel as management for Disney Stores. Today, she continues to explore the country through the educational and conservation efforts of Haai, Inc. Shark Encounter, the family business. Evelyn's travels throughout the United States, Europe, Mexico and Canada, along with a year residency in Japan, have shown a wide diversity of life and given her the opportunity to share experiences through art.

Evelyn's work is represented by Rhea Chiles' Studio at Gulf and Pine on Anna Maria Island Florida and held in private collections throughout the US, Australia, France, Spain and the Netherlands. She serves on the governing board of Myakka River State Park with a dedication to bring artists and nature together. WILD: Artists and Animals of Myakka, an annual fundraiser featuring top artists of the Sarasota area is curated by Evelyn.