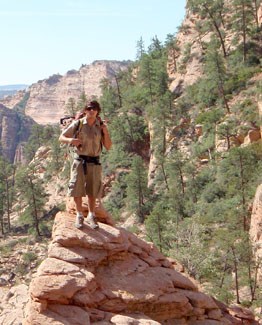 Zion National Park is seeking friendly, positive, and professional volunteers available 3 to 4 months to assist in:

Day hiking, overnight backpacking and canyoneering, moderate to strenuous activity level
Area Information
Zion National Park is famous for its majestic sandstone monoliths, slot canyons, climbing routes, beautiful colors, hanging gardens and unusual rock formations - attracting 2.7 million visitors annually. The backcountry of Zion ranges from 4,000 feet in elevation in the desert to 8,000 feet on the plateaus. Many of the hiking/backpacking trails are steep and strenuous. Zion also has many canyoneering routes that require rappelling skills. Good physical condition is necessary to enjoy Zion's adventurous backcountry.

Position Duties
50% Backcountry Permits Desk – Located in the main canyon visitor center, this is where you issue backcountry permits and collect fees, assist visitors with planning their backcountry trips, answer telephone questions, educate visitors on LNT ethics and techniques, provide information concerning trail conditions, hazards and flash flood information.
50% Backcountry Patrols and Projects - Hike trails and canyoneering routes (rappel routes) to make visitor contacts, check permits and report on trail conditions. Opportunities may exist to assist in Search and Rescue operations. Assist with Resource Management projects, including peregrine falcon monitoring, archeology site monitoring and exotic plants removal/native plant restoration. There is a moderate to strenuous activity level - Day hiking, overnight backpacking and canyoneering.
Skills
Prior backcountry and public contact experience is essential. Some of the skills that will help you get the most out of this position are day hiking, backpacking, map reading, climbing or rappelling. Excitement and love for the backcountry are the most valuable skills of all.
Housing
Area Housing - shared housing will be provided in the park.
Transportation
A car is recommended, but not required. Applicant should have a valid driver's license.
Reimbursement
A small, partial reimbursement for meal costs may be available.
Uniform
Volunteer shirts and hat will be provided by the park. The volunteer is asked to provide their own shorts or pants (tan, green, or brown) and boots or shoes. Backcountry gear needed to perform the duties is provided.
How to Apply
We offer a spring, summer, and fall position yearly. Apply through Volunteer.gov or send application including work experience, education, outdoor skills, and references to Annette_Werderich@nps.gov. Please indicate which dates you are applying for.
Other information
This position can fill the requirements for internships in many cases. The nearest town is Springdale. We work nine hour days so every other weekend is a three day weekend.