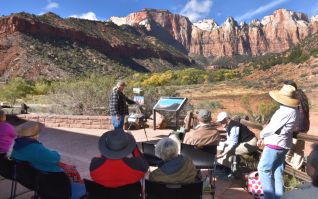 Plein Air Invitational
Zion National Park artist applications for the park's 2017 Zion Plein Air Art Invitational are now available. Zion National Park and the Zion National Park Foundation have hosted some of the country's most recognized plein air artists over the festival's past eight years. The 9th Annual Zion National Park Plein Air Art Invitational will be held from Monday, November 6 to Sunday, November 12, 2017.
"The Plein Air Event at Zion ties us to the park's artistic heritage in a powerful and accessible way," said Jeff Bradybaugh, Superintendent, Zion National Park. "Through the eyes of our contemporary artists, we constantly gain new perspective and understanding about why Zion matters, and the importance of its protection for everyone forever."
Proceeds from the event support the park's K-12 and young adult education initiative including the junior ranger program, funding for school field trips to the park, and ranger visits to schools unable to visit the park;
Concrete to Canyons
, a 3-day field experience for underrepresented schools in Las Vegas and Mesquite, Nevada, as well as the park's Artist-in-Residence Program.
The 2016 event raised more than $65,000 in support of these programs.
"As Zion National Park's official nonprofit partner, we are proud to host the 9th Plein Air event with our park partner," said Mark Preiss, director of philanthropy, Zion National Park Foundation. "While federal appropriations provide for the park's day to day operations and basic maintenance, we are here to provide Zion National Park's margin of excellence. This project sustains the park's heritage of art, while proceeds help us give thousands of our area school children and young adults once in a lifetime experiences in Zion National Park every season," Preiss added.
For those who are interested in applying, the online application is now available online. All application materials must be submitted at:
https://znha.wufoo.com/forms/w8howkl15p8ez8/
by Monday, February 13, 2017 by midnight.
Your application will not be considered complete until you pay a $20 non-refundable application fee. The fee may be sent to ZNPF as a check or money order or call 435-772-3264 and use a credit card. Mail checks or money orders to:
Zion Natural Park Foundation
Zion National Park
Springdale, UT 84767
For more information, please call
435-772-3264
or email
info@zionpark.org
.