Road Work in Yosemite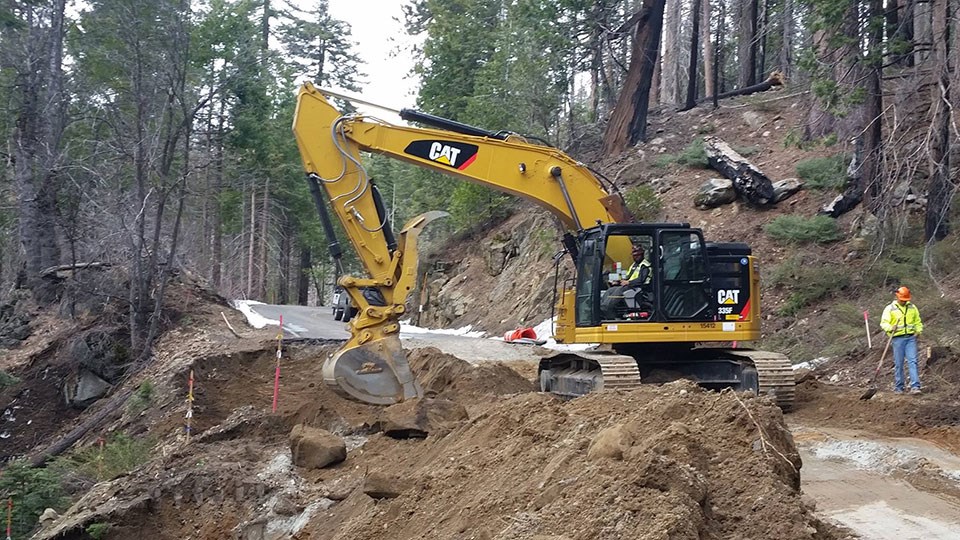 The National Park Service (NPS) regularly makes repairs on roadways throughout the park. Additional restoration and construction projects, along with operations related to fire management and hazard tree removal can cause delays or closures along park roadways.
A Yosemite NPS Project Manager is onsite to complete regular inspections and to ensure that the work complies with our environmental requirements, as well as the goals and mission of the National Park Service. An overview of each project is listed below along with an estimated schedule of delays for each. Email us if you have any questions.
Current Road Projects
In 2022, there are a variety of projects taking place throughout the park that may affect roadways, parking areas, and other facilities.
Tioga Road
Tioga Road Improvements (Spring/Summer 2022)
Spring/Summer 2022
The Tioga Road Rehabilitation project extends from Olmsted Point east toward Tioga Pass. Roadside parking areas will also be affected by this project. This project began on June 1, 2021 and continued until the road closed for winter. This project will continue during spring and summer 2022 until the road closes for winter.
Day

Allowable Closures

Maximum Delay
(per passage through the project area)

Sunday through Thursday

11:00 pm - 6:00 am
6:00 am - 8:00 am
8:00 am - 3:00 pm
3:00 pm - 5:30 pm
5:30 pm - 11:00 pm

60 minutes
15 minutes
30 minutes
15 minutes
30 minutes

Thursday through Friday

11:00 pm - 6:00 am
6:00 am - 8:00 am
8:00 am - 3:00 pm
3:00 pm - 4:30 pm

60 minutes
15 minutes
30 minutes
15 minutes

Friday (from 4:30 pm) through Sunday (11:00 pm)

No closures

No delays

Maximum Delay = Total delay you can expect to experience through the entire work area (may be stopped in multiple locations)
---
Glacier Point Road
Entire 2022 season
Glacier Point Road will be closed for the entire 2022 visitor season. The project will address multiple severe safety issues on the ten miles of road located between the intersection to the Badger Pass Ski Area and the Glacier Point Parking Area. Some of the road safety issues that will be addressed in this project include:
To pulverize and repave ten miles of road between Badger Pass and Glacier Point.
To repair the narrow hairpin turns between Washburn Point and Glacier Point to address vehicular safety issues
To construct additional parking and new vault toilets near the Sentinel Dome Trailhead
---
To find out more information about the current status of all park roads, call the park information line at 209/372-0200 (then 1, 1).
Last updated: May 20, 2022