Restoration of the Merced River - Strategy and Projects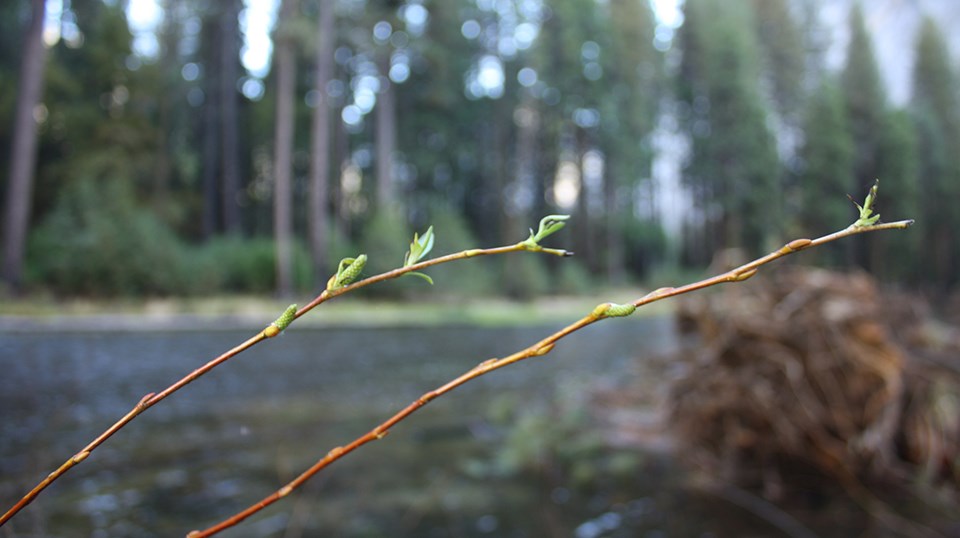 Learn and Explore
Yosemite National Park's Merced River Restoration Strategy [2.4 MB PDF] articulates the vision guiding planned and ongoing efforts to restore the Merced River in Yosemite Valley, and explains the rationale for the measures being pursued to achieve that vision. It provides context for restoration measures so that stakeholders, practitioners, managers, and the general public can understand why actions are being done.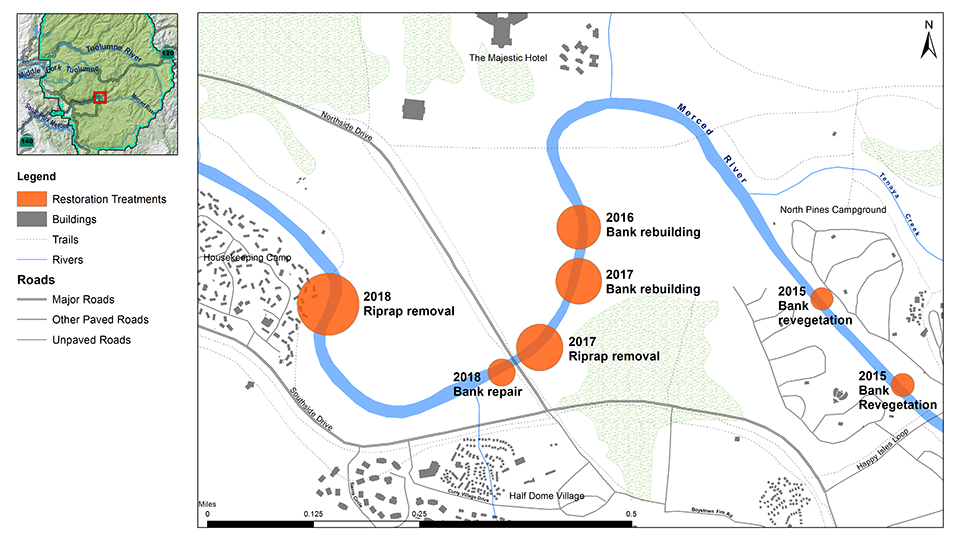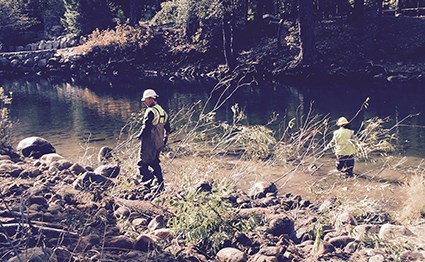 2015

Riverbank revegetation projects were conducted in the North Pines campground area in the fall of 2015. Much of the soil found on the banks of the Merced River is easily eroded when not held together by plant roots. Vegetation on the banks is often trampled and thinned, removing the roots that stabilize the soil.

By revegetating the riverbanks with native riparian plant species, eroded riverbanks are rebuilt to create complex plant communities that provide valuable habitat for aquatic and terrestrial species. These restoration areas may be fenced off for multiple years while the vegetation recovers.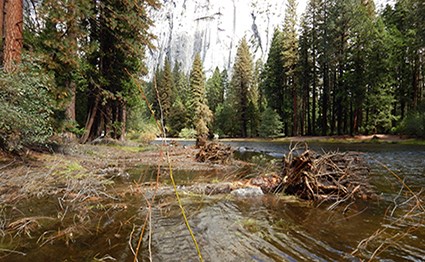 2016
Riverbank restoration work focused on narrowing the river channel in the former Upper River campground area. In this area, the riverbanks are eroded and the river channel has substantially and unnaturally widened. In some places the river channel has increased its width by 51 feet from when it was mapped in 1919.
Rivers can naturally build banks back through a process in which riparian vegetation slows down water and causes sediment and organic matter to deposit near the bank. Tree trunks and branches that fall into the river can also slow down the river flow, causing sediment deposition. Many species take advantage of the varied habitat that forms around large wood in the channel.
This project was meant to accelerate bank rebuilding by securing incense cedar and ponderosa pine trees in the river as well as planting riverbanks with willows, cottonwoods, alders, and sedges. This area is currently fenced off to allow the vegetation to establish.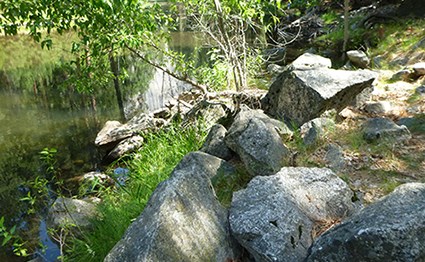 2017
River restoration work will continue with bank re-building work just downstream of the 2016 project site. In addition, park staff will replace unnecessary riprap upstream of Stoneman Bridge with large wood structures that deflect river flows away from the bank.
Many of the rivers and creeks in Yosemite have been lined with large stones, called riprap, to prevent the river from naturally eroding banks. Fixing the river channel in place protects roads and buildings and other infrastructure from being damaged by the river, especially during floods. However, little vegetation colonizes riprapped areas, and the riprap can cause the river to unnaturally widen or scour out deep pools. By removing riprap that has already collapsed and is no longer functional, or replacing riprap with bioengineered structures that can serve the same function as the riprap, we can enhance riparian habitat while still protecting infrastructure.
Last updated: December 3, 2018