Annual Yosemite National Park Christmas Bird Count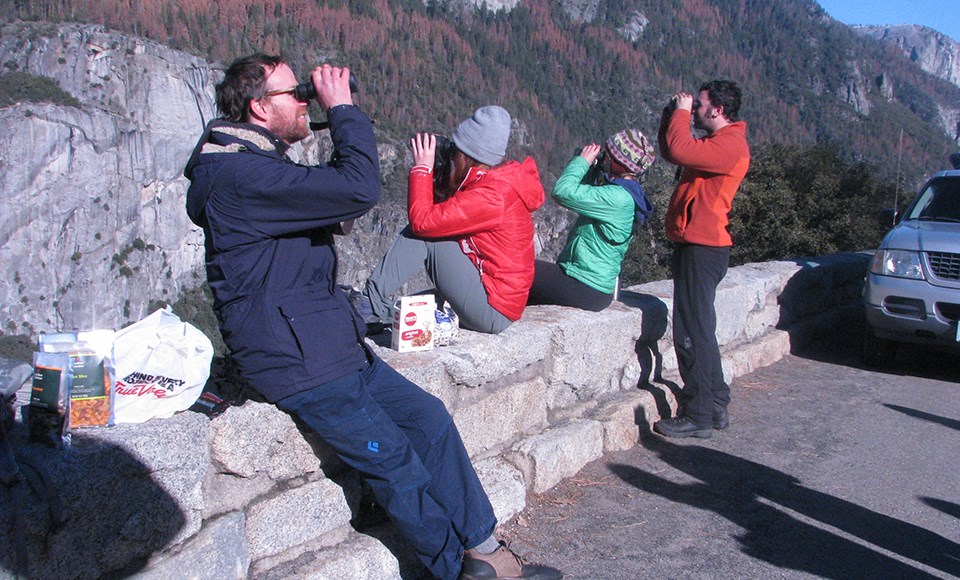 Each year, tens of thousands of volunteers across the Americas join to participate in the Christmas Bird Count (CBC). This event is a census of birds in the western hemisphere that provides population data for science. Yosemite's participation began in 1932 and has since contributed over 100,000 observations to the growing database of bird population trends. For many people, spending the day observing birds, reuniting with birding friends, and contributing to bird conservation makes their holiday season complete. The CBC is the longest-running citizen science survey in Yosemite and in the world.
The most recent Yosemite CBC took place on December 19, 2021; more details to come on that event. In 2020, eight leaders and their respective groups sought to count as many birds as possible. In following with current health guidance, group sizes were limited at the leaders' discretion and the annual compilation dinner did not take place. Despite these modifications, the count itself proceeded as usual with leaders being responsible for the accuracy of bird identification and data collection in their areas. All day, participants searched their respective areas, covering a 15-mile radius circle, which included El Portal, Foresta, Yosemite Valley, and Chinquapin/Yosemite West. In 2020, participants tallied 2,375 individual birds comprising 67 species – just below the record high of 70 species.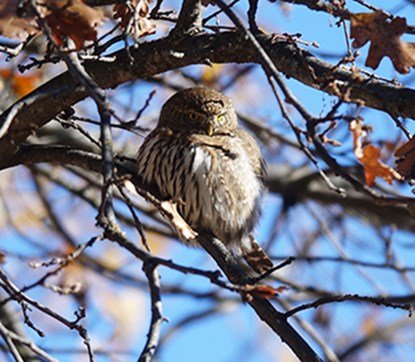 In 2020, the early morning hoots of a California spotted owl kicked off the count. Birders were kept busy by high numbers of great blue herons (8), northern pygmy-owls (3), ruby-crowned kinglets (368), purple finches (7), and Townsend's solitaires (20). In contrast, birders observed unusually low numbers of common ravens (56) and white-breasted nuthatches (2). Despite participants tallying a high number of species, some reliable birds such as common merganser, sharp-shinned hawk, and great horned owl were missed. Birders in the highest elevation zone recorded the fewest number of species (26) and individual birds (147), while birders in the lowest elevation zone (El Portal and the river canyon) recorded the highest number of species (41) and individuals (742). Acorn woodpecker (98) and dark-eyed junco (92) boosted the number of birds observed in El Portal, collectively accounting for almost 25% of El Portal's total.
The overall number of individual birds observed was back to a more average number (2,375) compared to last year's record low count (1,781). While there were no big surprises, birders reported some special moments, including observing a Cooper's hawk taking a bath in the Merced River, western bluebirds picking insects off the base of El Capitan, and a bald eagle's flight overhead against the backdrop of Yosemite Valley's spectacular cliffs.
The next Yosemite Christmas Bird Count is December 18, 2022. To attend the full-day event, bring binoculars, a field guide, lunch, plenty of warm clothes and sturdy shoes. Plan to be outside all day, from around dawn to dusk. An annual compilation potluck dinner closes the day to allow participants to share Yosemite birding highlights. To participate, you must register in advance by contacting the Yosemite Christmas Bird Count Organizer and Compiler.
Some historic highlights from Yosemite's Christmas Bird Count include:
A record 1,100 band-tailed pigeons counted in 1971
A record 560 mountain chickadees in 1972
A record 483 golden-crowned kinglets in 1953
Two rare hooded mergansers spotted in 1940
Great gray owls observed during five different annual bird counts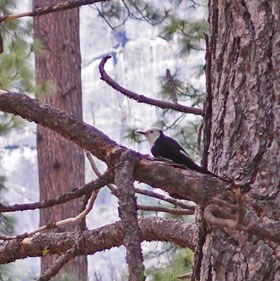 Learn More
Quick Tips
When bird-watching, experienced birders confidently identify birds by just a glimpse. (See illustrations of Yosemite's most common species.) Remember that a bird's feathers change as an adult molts into its winter plumage. For many species, a male bird's winter plumage is dull compared to his colorful plumage in the spring when he is interested in attracting a female with whom to mate. Also, note subtle nuances in a bird's song or call—long trills or short chips. In the winter, birds rarely sing but make call notes to defend a territory, announce the presence of a predator, or to keep up with a mixed-species foraging flock.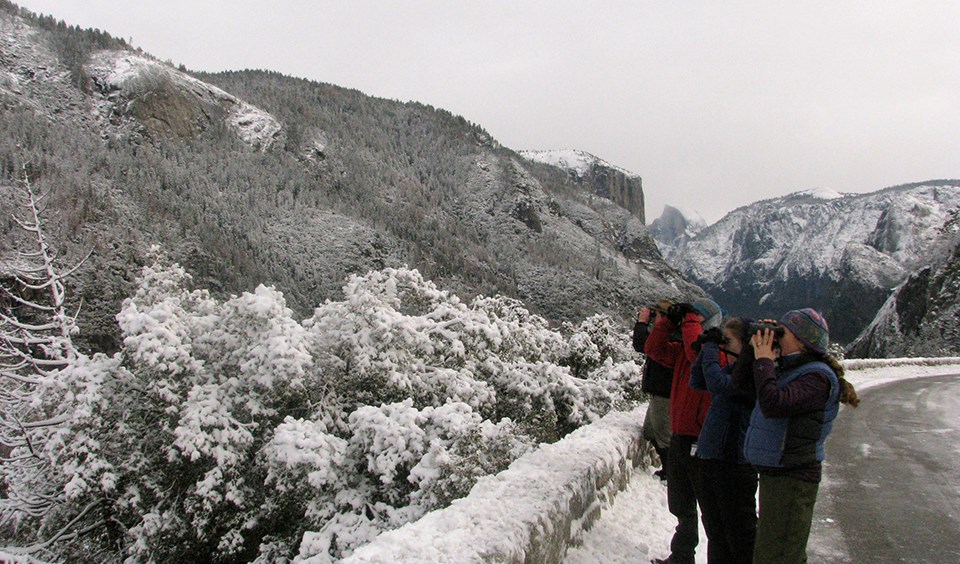 Last updated: November 29, 2022