Tunnel View Overlook Rehabilitation
Project Status
Skip to project documents
The following is a list of the various stages that occur during a planning process. Though there are added public involvement opportunities such as meetings and workshops throughout, this outlines the major steps. They include:
Initial public outreach
Technical Study/Report
Public scoping (ended 6/9/07)
Plan development
Public review & comment (EA or EIS) (ended 11/2/07)
Produce final plan/report
>Decision document<
Implementation of plan/project
The Tunnel View scenic overlook is a historic site located adjacent to Wawona Road. This overlook affords expansive views of Yosemite Valley, El Capitan, Bridalveil Falls, and Half Dome that have captured the awe of visitors for nearly 75 years. The overlook was constructed in 1932 during an era that heralded a boom in design and development throughout the National Park Service, and helped initiate the National Park Service "rustic design style." Wawona Tunnel and Tunnel View were determined eligible for listing on the National Register of Historic Places in 1986 because of their exemplary design. Very little physical change has occurred to Tunnel View's physical features (including rockwork, circulation patterns, and configuration) since it was built in 1933. The site remains one of the most popular scenic overlooks in Yosemite National Park. Tour buses, tram tours, and single-family vehicles bring an estimated five to seven thousand people to the site per day during the height of the tourist season.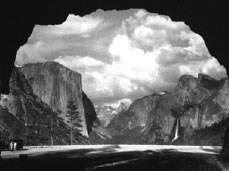 The purpose of the Tunnel View Overlook Rehabilitation Project is to remedy long-standing vehicle-to-vehicle and vehicle-to-pedestrian safety issues, to correct drainage deficiencies and problems, to provide clear circulation patterns for pedestrians and vehicles, to enhance and maintain viewing opportunities for visitors, to provide accessibility to viewing areas, to correct safety problems associated with the Inspiration Point trailhead, and to address sanitation issues, while maintaining the naturalistic, rustic character and integrity of this historic site.

Documents pertaining to the Tunnel View Overlook Rehabilitation Project:


Last updated: March 1, 2015