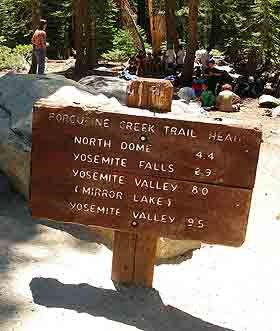 The Tioga Road is an historic travel route stretching 46 miles through the high country of Yosemite National Park. This trans-Sierra road began as a Native American footpath for trade and travel. It later became the great Sierra Wagon road and then a mining road. When the road first opened to regular park visitors in 1915 it was travelled by only 190 cars. Today Tioga Road is a seasonal highway used by over 500,000 travelers each year. The road is typically open from May to November, depending on weather conditions, and is closed each winter.
The Tioga Trailheads Project will establish corridor-wide trailhead design guidelines; it will identify actions needed to protect sensitive natural and cultural resources; and will identify areas where visitor safety, access, and enjoyment may be improved.
The project will also consider alternative means to improve traffic and pedestrian travel patterns, wayfinding, accessibility, picnicking facilities, food storage, waste management and the location of interpretive materials at select trailheads along the Tioga Road.
This project will address eight of the twelve designated trailheads along the Tioga Road, including (from east to west): Gaylor Lakes at Tioga Pass, Mono Pass, Snow Creek, May Lake, Porcupine, Yosemite Creek/Ten Lakes, Lukens Lake, and Tamarack Flat/Aspen Valley.