Tuolumne River Plan - scoping process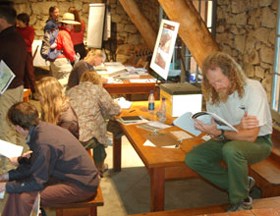 A planning effort kicks off with a process known as PUBLIC SCOPING. It is during this time that the public is asked to present ideas and concerns that should be taken into consideration as the plan is initiated. For the Tuolumne River Plan process, members of the public were invited to read the PARTICIPANT'S GUIDE TO PLANNING IN TUOLUMNE. At a series of public meetings, members of the public were asked,
What do you love about Tuolumne Meadows and the Tuolumne River? What do you do when you are there? What do you want to see protected? What facilities and services would you like to see maintained, improved, or removed?
Throughout the scoping period, June 27, 2006-September 7, 2006, the National Park Service received 457 public scoping responses (including letters,faxes, emails, comment forms, and public meeting flip-chart notes). Each response from the public was carefully reviewed and individual ideas were identified and assigned a code according to the subject matter. These discrete individual ideas are known as public comments. A total of 4,023 public comments were generated from the letters, faxes, email, and meeting notes received during the scoping process.
Public comments were then grouped into what are called concern statements. These public concerns identify common themes expressed by individuals or groups requesting particular lines of action by the National Park Service. A total of 945 public concern statements were generated from the over 4,000 total public comments.
For more information, read through the Public Scoping Report (1.08 MB PDF).
Below you will find scans of all public scoping comments for this plan. Each file is a PDF (requires Adobe Reader) and varies from 1 MB to 20 MB in size.
Last updated: March 1, 2015