Tuolumne River Plan - team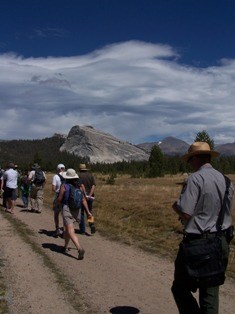 Drafting a plan is an enormous undertaking. It takes a legion of people, including park staff, other land management agencies, tribes, community stakeholders, nongovernmental organizations, and members of the public, to get any planning effort to the finish line. Led by a project manager, it is the job of the core team to understand the issues and data while drawing from the depth and scope of ideas expressed by all interested entities.
The NPS core team for the Tuolumne River Plan includes representatives from each park division: Interpretation and Education, Resources Management and Science, Visitor Protection (including Wilderness Management), Facilities Management, Business and Revenue Management, Planning, Project Management, and the Superintendent's Office.
Team members represent the particular interests and knowledge base of their respective aspect of park operations. They are also chosen to be on the Tuolumne River Plan team based on their long association with and connection to Tuolumne. Since 2006, the team has worked through the issues raised by scientific studies and public concerns to create a range of alternatives that will be presented in the plan.


Last updated: March 5, 2015