Tioga Road Rehabilitation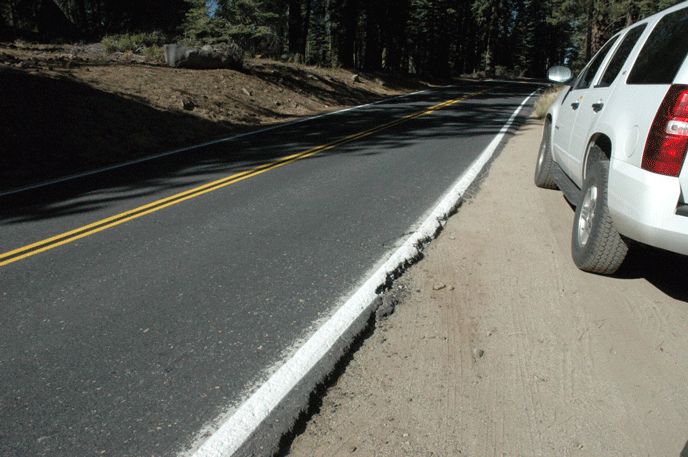 The National Park Service released an environmental assessment in August 2011 that presented the environmental impacts of leaving Tioga Road in its current condition (No Action Alternative) and of rehabilitating 27 miles of the Tioga Road to make safety improvements (Action Alternative). A Finding of No Significant Impact, documenting the Selected Action, was signed in October 2012. The Selected Action will implement the rehabilitation, restoration, and resurfacing of approximately 41 miles of the Tioga Road while protecting natural and cultural resource values.
The Selected Action will:
Improve the safety of visitors and employees traveling on Tioga Road.
Maintain the character of the road corridor, including significant cultural landscape characteristics such as the curvilinear alignment, grade, and road features including culverts, retaining walls, and turnouts.
Restore drainage features to control erosion and to protect natural and cultural resources.
Increase accessibility for park visitors and reduce confusion regarding designated roadside turnouts.
Manage roadside parking and traffic flow through improved turnouts.
Reduce rockfall potential along Tioga Road by scaling rock at select locations.
Manage and improve the Tuolumne Grove parking area.
Tuolumne Meadows
Throughout the Tuolumne Meadows corridor, decisions made through the Tuolumne River Planning effort will determine what specific actions will be taken throughout the Tuolumne Meadows area. If Tuolumne River Planning efforts are not complete when construction is ready to start, then this proposed project will solely address the resurfacing and repaving of the current road, wand will not alter or affect roadise parking. Visit another section of our website for more information about the Tuolumne River Plan.
Last updated: March 1, 2015