Tenaya Lake Area Plan
The Finding of No Significant Impact was released in May 2011
Visit the PEPC webpage to review the document.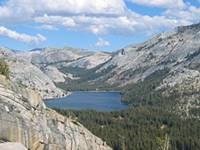 Tenaya Lake is a magnificent High Sierra lake surrounded by granite domes, lodgepole forests, and Yosemite's vast wilderness. It is the largest lake in Yosemite's front-country. Because of its remarkable scenic qualities, its inviting blue water, and its proximity to Tioga Road, Tenaya Lake is one of the most popular destinations for summer visitors in Yosemite.
Problems associated with visitor use, visitor safety, and resource impacts have been occurring for decades. Thanks to a grant from The Yosemite Fund, a comprehensive analysis of, and solution to these issues is underway.


The environmental assessment was available for review and comment, beginning October 12, 2010 and ending November 17, 2010. The document is still available on the Planning, Environment, and Public Comment (PEPC) webpage for review.

Last updated: March 1, 2015