Merced River Plan ~ Stay Informed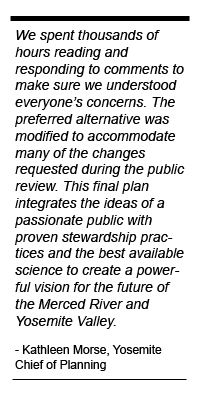 Yosemite National Park announced the release of the Merced Wild and Scenic River Final Comprehensive Management Plan and Environmental Impact Statement (EIS) on February 14, 2014. The complete five-volume Plan and EIS (approximately 3,000 pages) is available on the Final Plan.
A public meeting will be conducted to provide information about the final plan on Thursday, March 6, 2014, from 1:00 p.m. to 3:00 p.m. in the Yosemite Valley Auditorium. The meeting will also be broadcast via webinar at http://yose.webex.com.
After a 30-day no-action period, the plan will be finalized and a Record of Decision will be prepared and signed.
Public involvement has been a cornerstone of the planning process. Throughout plan development, the park conducted over 60 public meetings , both in the park, and throughout the state. The park also conducted several webinars to help people understand some of the more complex elements of the plan so they could provide informed comments. Many of the changes between the draft and final plan were the direct result of concerns raised during public meetings, agency and tribal consultation, and in public comments.
Last updated: November 8, 2017