Mariposa Grove Restoration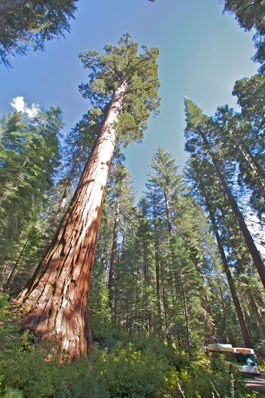 The Mariposa Grove is a popular destination for visitors in Yosemite National Park. The National Park Service is embarking on a plan to restore the Mariposa Grove and ensure it thrives to be enjoyed by future generations. The Park has prepared an Environmental Impact Statement (EIS) for the restoration of giant sequoia habitat in the Mariposa Grove. The Mariposa Grove is comprised of approximately 500 mature giant sequoias (Sequoiadendron giganteum) and is the largest of three sequoia groves found within Yosemite National park.
The national park idea is rooted in the Mariposa Grove. In 1864 President Lincoln signed legislation protecting the Mariposa Grove and Yosemite Valley for "public use, resort, and recreation." This landmark legislation holds an important place in our country's history and was enacted at a time when the nation was embroiled in the Civil War. For the first time in our nation's history, scenic natural areas were set aside and protected for the benefit of future generations.
A testament to survival and splendor, sequoia groves offer a glimpse into the past. Now is your chance to be part of the Mariposa Grove story and help develop a plan that aims to protect this special area.
Last updated: March 1, 2015