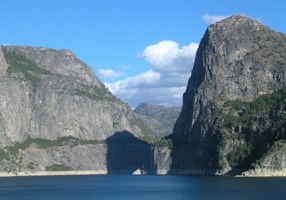 The National Park Service is looking for your input on the EA/IS. Public review and comment period is open from October 2, 2007 – November 2, 2007. Public participation is essential for the success of this and all other park improvement projects. Here are some ways to stay involved in this project and its planning process:
Attend a National Park Service public open house to talk with project specialists and obtain more information on the project. The next open house is October 31, 2007 in the Auditorium behind the Valley Visitor Center between the hours of 1:00 pm and 5:00 pm.

Add your name to the park's planning list

and receive the Planning Update newsletter as well as other planning-related notices. You can also submit your email address to receive the park's periodic electronic newsletter.

To request a copy of the EA/IS

(CD or hard copy), write, email or fax your request to the address listed below. All comments must be postmarked by November 2, 2007. You can submit comments by any of the following means: Mail: Superintendent Attn: Hetch Hetchy Communications System Upgrade P.O. Box 577 Yosemite, CA 95389 Phone: 209/379-1365; Fax: 209/379-1294 E-mail: e-mail us

Visit online:

www.nps.gov/yose/parkmgmt/hetchyproject.htm
Access PEPC (Planning, Environment, and Public Comment) on the web at:https://parkplanning.nps.gov/yose
Please select a document to view.
Title Page (23 kb pdf)
0.0 - Executive Summary (170 kb pdf)
00_table of contents (184 kb pdf)
1.0 - Background and Purpose and Need (1.6 mb pdf)
2.0 - Proposed Action (33.6 mb pdf - in one file)
3.0 - Affected Environment and Environmental Consequences (24.7 mb pdf)
4.0 - Mitigation Measures (159 kb pdf)
5.0 - Wild and Scenic River Act Compliance (150 kb pdf)
6.0 - Consultation and Coordination (163 kb pdf)
7.0 - List of Preparers and Reviewers (106 kb pdf)
8.0 - Glossary and Acronyms (167 kb pdf)
9.0 - Bibliography (171 kb pdf)
Appendix A - Cumulative Projects List (159 kb pdf)
Appendix B - CEQA Initial Study Checklist-CLEAN (203 kb pdf)
Appendix C - Tuolumne River Section 7 (170 kb pdf)
Appendix D - Technical Memo (98 kb pdf)
NPS and FS Joint Cover Letter (145 kb pdf)
PMND Cover Letter-30 days MEA (140 kb pdf)
PMND (147 kb pdf)
Front and Inside Cover (167 kb pdf)
Back Cover Hetch Hetchy (43 kb pdf)