High Elevation Aquatic Ecosystem Recovery & Stewardship Plan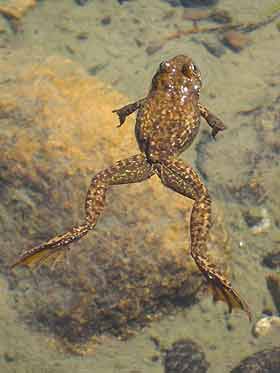 The High Elevation Aquatic Ecosystem Recovery & Stewardship Plan will guide the next 15 years of NPS management actions to protect and restore the park's high elevation aquatic ecosystems. Management actions will be designed to protect these ecosystems from future threats and will restore the diversity and distribution of species to increase the resiliency of these ecosystems.
This plan focuses on management of individual lakes, ponds, streams, and wet meadows found between 5,500 and 12,000 feet in elevation. Many of these aquatic habitats have been impacted by past and/or ongoing recreational and administrative activities, such as the introduction of nonnative trout and pack stock grazing. These habitats also support special status species, including the Yosemite toad and the Sierra Nevada yellow-legged frog, two species that have suffered substantial population declines. Sierra Nevada yellow-legged frogs were once the most abundant amphibian in Yosemite's high country. Today, the frog is among the world's most critically endangered amphibians having lost at least 93% of their populations. Yosemite toads were also once an abundant species; at least 50% of their populations have been lost. The remaining populations of both species are much smaller and more fragmented across the landscape. Both species are federal candidates for listing under the Endangered Species Act.