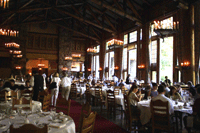 Public participation is essential to the success of the Ahwanhee Comprehensive Rehabilitation plan. Some ways to stay involved in this project are:
Review and Comment
During the Public Scoping period from August 13 to September 26, 2009, written comments were accepted by any of the following means:
Online via the Planning, Environment, and Public Comment (PEPC) website
Mail: Superintendent
Attn: The Ahwahnee Comprehensive Rehabilitation Plan
P.O. Box 577
Yosemite, CA 95389
Fax: 209-379-1294
Public comments were also accepted at the park's August 26 and September 30, 2009, Open Houses.
The public review period for the Environmental Assessment (EA) is planned for Summer 2010.
Attend a Public Meeting
A Public Open House was held on August 26, 2009, from 1 p.m. to 4 p.m. at the East Auditorium in Yosemite Valley.
A public scoping meeting was held on September 22, 2009, from 1:00–4:00 p.m. in The Under Lounge (south end of the Great Lounge) at The Ahwahnee.
The park entrance fee was be waived for people attending the public open house and scoping meeting.
Sign up for the Park Planning Newsletter
Add your name to the park's planning list and receive the Planning Update newsletter as well as other planning-related notices. You can also submit your email address to receive the park's periodic electronic newsletter.