2008 TRP Planning Workbook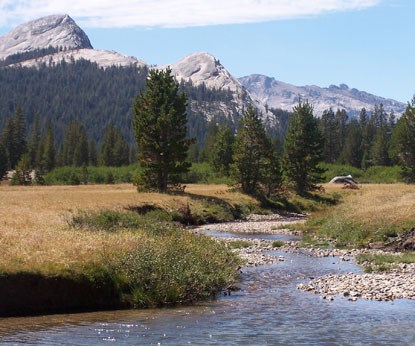 When the planning for the Tuolumne River began in 2005, the National Park Service knew that it would be a complex, multiyear effort. The planning team was determined not to let a summer season go by without presenting a detailed update on the plan's progress to the culturally associated Indian tribes, interested members of the public, and other stakeholders—and to provide opportunities for their input along the way. The purpose of this 2008 Tuolumne Planning Workbook is twofold: (1) to provide a progress report on the planning process, and (2) to give people an opportunity to review and comment on the work to date. This 2008 Tuolumne Planning Workbook revises and builds upon the information published in the July 2007 Tuolumne Planning Workbook. If you do not have a copy of the 2007 workbook, you may access it on line at www.nps.gov/yose/parkmgmt/upload/ trpworkbook-web.pdf.
The 2007 and 2008 workbooks consolidate background information, planning tools, and preliminary alternatives for managing the Tuolumne River corridor. They represent thousands of hours spent since 2005 by the planning team, park staff , culturally associated Indian tribes, other agencies, gateway community representatives, and interested members of the public.
As part of the continuing commitment to make public involvement an integral part of every step of Tuolumne River planning, this workbook includes a worksheet and mail-back comment form to gather your ideas and concerns about the current step: the consideration of specifi c programs and facilities for Tuolumne Meadows. The NPS Tuolumne planning team has begun to develop preliminary site plan concepts for the Tuolumne Meadows area; however, further discussion and analysis are needed before these concepts can be fully developed and a preferred alternative selected. This summer will provide the opportunity to hear from you before the planning team takes that step. All the alternatives will be fully analyzed and formally reviewed in the upcoming Draft Tuolumne Wild and Scenic River Comprehensive Management Plan/Environmental Impact Statement (Draft Tuolumne River Plan/EIS) scheduled for release in summer 2009.
Last updated: October 12, 2018