Be A Junior Ranger
Become a Junior Ranger! Find an online schedule of interpretive programs, including special junior ranger programs, on our calendar, in the NPS app, or in the Yosemite Guide newspaper.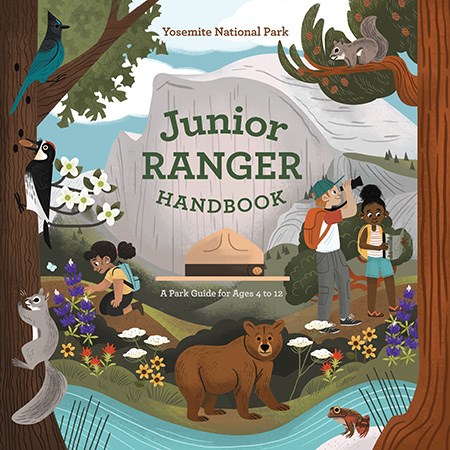 Become a Junior Ranger!
You can become a Yosemite Junior Ranger by taking a self-guided handbook with you as you travel around the park and complete the activities that are the best fit for you. The Yosemite Junior Ranger handbook is available for free at visitor centers. When you are done, share your booklet with a park ranger at any Yosemite visitor center during operating hours to receive your badge.
If you're unable to get to a visitor center, you can download the Junior Ranger book [5 MB PDF]. (These are not available by mail.)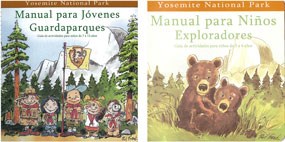 Sea un Joven Guardaparque
Presentando una guía en español que se llama "Manual para Jóvenes Guardaparques." Por favor visiten un centro de visitantes del parque para recoger su ejemplar. Esta guía tiene actividades para niños de 7 a 13 años. Una otra guía, "Manual para Niños Exploradores," es para niños pequeños de 3 a 6 años. Todos los niños que completan los manuales recibirán como obsequio un escudo de "Joven Guardaparque de Yosemite."
Adapted Activities Companion Guide
All children can become Yosemite Junior Rangers with a little help! In this free, 14-page companion to the new Junior Ranger Handbook [1.5 MB PDF], junior ranger activities have been adapted for children with diverse communication, learning, motor and/or sensory needs, who have difficulty using speech or writing implements.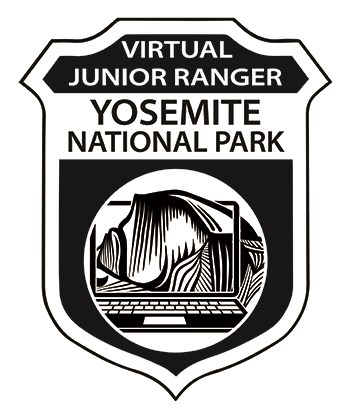 Become a Yosemite Virtual Junior Ranger from Home!
We are offering a virtual junior ranger program that you can do at home! Learn about some of the cultural and natural wonders of Yosemite (and your own home area) and share your art and thoughts with us.
How do you earn your virtual junior ranger badge?
Download the junior ranger activity worksheets.
After completing your junior ranger activities, email photos/scans to yose_information@nps.gov. Make sure to include your full name and address in order to receive the badge.
If you don't have access to email, you may send finished work to:
ATTN: PIO
Yosemite National Park
P.O. Box 577
Yosemite, CA 95389
If you don't have access to a printer, fill out the activity sheets on the computer (English) [619 kb PDF] (Spanish) [641 kb PDF] and email them to us. Make sure to include photos of the drawing activities in your email to us!
We have a very limited number of virtual junior ranger badges to mail out and they will take 6-8 weeks to arrive in your mailbox. We are unable to mail these outside the United States. Feel free to color your own while you wait!
More Yosemite-Related Links
Last updated: May 26, 2022