Field Trips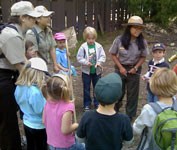 Consider connecting your students to the ultimate classroom. Yosemite National Park features an amazing array of learning opportunities. In this section, you will find several options and planning resources to help you
coordinate a field trip
to Yosemite—whether you plan on attending a
Parks As Classrooms ranger program
, designing a
self-guiding visit
, or are looking for information on a wide range of program options, this section of the website can help guide you. If you have any questions,
email us
or call us at 209/375-9503.
The Environmental Living Program will no longer be offered, beginning the 2018/2019 school year.
Educational Opportunities in Yosemite
Consider connecting your students to the ultimate classroom: Yosemite National Park. Education rangers offer an array of Parks as Classrooms programs on a variety of topics including ecology, geology, and human history. Programs last for one to two hours and are designed to help teachers meet state or environmental education teaching standards. Designed to provide students with an engaging learning experience, rangers deliver all programs with age-appropriate teaching techniques and goals in mind.
Programs are offered on selected weekdays throughout the academic year as well as summer.
Programs must be booked at least three weeks in advance.
Maximum class size of 30 students, with one chaperone required per every six students (36 people maximum/group).
For more information, contact the Education Office at 209/375-9503 or email us.
Explore Yosemite with our education partner: NatureBridge programs
NatureBridge environmental science programs in Yosemite National Park offer students in grades K-12 the opportunity to learn hands-on science in one of the world's most stunning geologic wonders. Two- to five-day residential outdoor science programs are led by experienced educators and customized to enhance your school's curriculum. Students hike through the dramatic landscapes of Yosemite, explore ancient groves of giant sequoias, ski across snowy meadows, and challenge themselves to reach the tops of waterfalls. Focused on inquiry-based learning, students engage in field research projects and discover how humans and the environment are connected, from past to present.
For more information, email
yosemitereservations@naturebridge.org
, or call 209/379-9511 ext 25.
Bring Yosemite back to your classroom: Teacher Ranger Teacher program
The National Park Service Teacher Ranger Teacher (TRT) program is an extended professional development opportunity for educators from K-12 schools to learn about the resources and educational materials available through the National Park Service. Teachers participating in Yosemite's Teacher Ranger Teacher program will have the opportunity to live and learn in the park including completing an education project in conjunction with park staff, developing lesson plans to be used in their classroom or school, participating in online courses through the University of Colorado and increasing their understanding of place-based learning. The six-week long program is offered June-August.
For more information, contact the Education Office at 209/375-9503 or
email us
.
Last updated: March 20, 2019