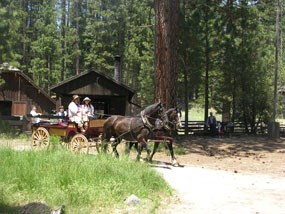 Program Overview
In this program, students stay at the Pioneer Yosemite History Center and assume the roles of historical figures from the 19th and early 20th centuries--people who influenced the development and protection of the area now known as Yosemite National Park.
During an overnight visit, participants in grades 4 and 5 confront the problems and decisions of the pioneers by performing tasks such as chopping wood, blacksmithing, cooking on a wood stove, and working with horses.
The main focus of the program is the history of land management in Yosemite. Through a simulated experience of a historic period in Yosemite, students will discover that land use issues of the past are similar to land use issues and park management conflicts today.
As a result of this discovery, students can choose to make a personal commitment to the protection of resources and national parks, as well as other community, state, or federal lands.