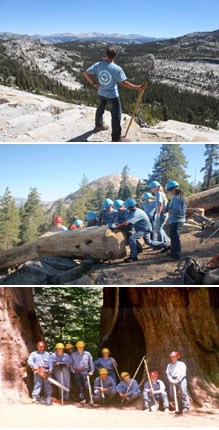 We are pleased to announce that funding has been received to continue the Youth Conservation Corps (YCC) in Yosemite National Park. This year's program will be non-residential with 10 youths working from 7:30 am to 4:00 pm, Monday through Thursday, with Fridays spent learning about the amazing natural and cultural treasures in the park. The program will be from June 11, 2018 to August 3, 2018. Youth ranging in age from 15 to 18 will be selected randomly (five females and five males) who must report to work in El Portal, CA Monday through Friday. Bus transportation (YARTS) may be available from Mariposa, CA. Youth will be paid within California's minimum wage standards.
Physical outdoor work will include rehabilitation of trails, campground restoration, and a wide variety of maintenance projects. Corps members will work together under adult leadership and develop work skills while learning firsthand about environmental and conservation issues.
Fridays will be spent participating in resource education, recreation, orientation activities, guest speakers, staff presentations, and day hikes in Yosemite National Park.
No previous experience is required, but a willingness and ability to work in a physically active outdoor program, getting along with others, and maintaining a positive attitude are essential for success.
Applications are due by March 30, 2018 [175 kb PDF].