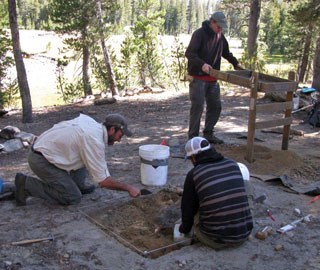 Discover a career in cultural resource stewardship with "Traditions to Careers" tribal internship!
Yosemite National Park is the location of nearly 10,000 years of traditional stewardship by Native peoples. This paid internship will provide training in backcountry archeological field methods and cultural resource stewardship to local tribal community members aged 18-25.

Due to grant funding requirements, this internship is only available to persons aged 18-25 and from one of the seven tribes or groups traditionally associated with Yosemite National Park. Please indicate which tribe or associated group you are a part of in your application letter.
Gain valuable work experience while hiking and camping in Yosemite's wilderness!
Selected interns will assist Yosemite archeologists in the remote wilderness of Dorothy Lake (9,500 ft) and Benson Lake (7,600 ft). Fieldwork will be conducted as part of the National Register Evaluation of Critical Wilderness Archeological Sites project.
Two 10-day fieldwork sessions will be held approximately July 10-19 & July 24-August 2, 2017.
Interns will be hiking up to 10 miles per day carrying packs up to 40 pounds on strenuous trails in rugged, high elevations for up to eight hours per day. Prior experience hiking and camping in backcountry/wilderness settings is required. Knowledge or experience in cultural resource management or archeology preferred but not mandatory.
A monetary stipend, partial assistance for backcountry gear, and training will be provided.
Tribal community members aged 18-25 are strongly encouraged to apply!
To apply, send a one-page cover letter and resume with the following information: name, address, contact phone number, email, and two references. In your cover letter, describe your experience backcountry hiking/camping in the wilderness and how your participation in Traditions to Careers internship will benefit your personal, tribal community, academic and/or career goals.
Email application to: yose_indian_liaison@nps.gov or send to:
Traditions to Careers Tribal Internship
Branch of Anthropology
Yosemite National Park
5083 Foresta Road
P.O. Box 700
El Portal, CA 95318
For questions or more information call 209/379-1418 or
email us
.