The Yorktown Battlefield Artillery Schedule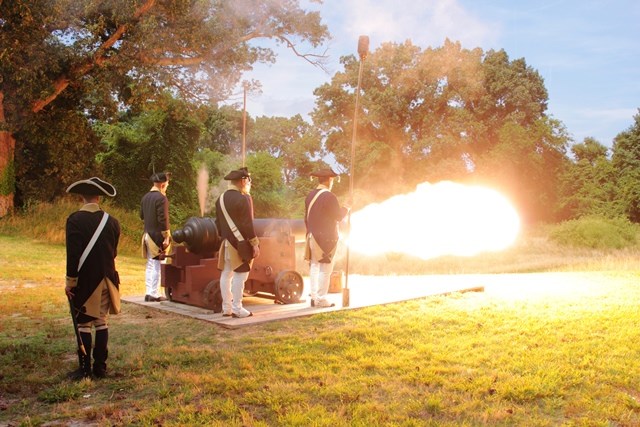 The Yorktown Battlefield Artillery Schedule
Colonial National Historical Park announces the firing artillery schedule for 2018. The majority of historic weapons programs are provided by Yorktown's two volunteer living history artillery units; the Royal Artillery which fire's the park's 6 pounder light artillery gun; and Lamb's Artillery (2nd Continental Regiment of Artillery) which fires an 18 pounder siege cannon.

"The reenactors who have recreated these units offer the Yorktown Battlefield visitors a truly authentic look at the artillery used during the siege of Yorktown, shared park ranger Derold "Mac" McClammy. "The Royal and Lamb's Artillery are made up of men and women who love history. They really live and breathe it and have made an enormous commitment to support our artillery programs and support the park."
Lamb's Artillery Schedule

A volunteer unit depicts the 2ndContinental Artillery Regiment commanded by Colonel John Lamb, which saw action at the 1781 Siege of Yorktown. The unit presents artillery programs which feature firing demonstrations of a replica 18-pounder siege gun, the largest siege cannon used by the Americans at Yorktown. Firings take place at 12:15 p.m., 1:15 p.m., 2:15 p.m. and 3:15 p.m. on the following dates:
April 29
May 20
June 24
July 15
August 12
Sept. 23
Oct. 21
Nov. 4

Royal Artillery Schedule
A volunteer unit depicts the British Royal Artillery at the 1781 Siege of Yorktown Programs include live firings of a replica, British cannon, similar to some of the field cannon the British used at Yorktown. Firings take place at 12:15 p.m., 1:15 p.m., 2:15 p.m. and 3:15 p.m. on the following dates:
April 21 (Fee Free Day)
May 19
June 9
July 14
August 18
September 29- Before the Siege
October 20

For additional information on Colonial National Historical Park, please visit www.nps.gov/colo and participate in the conversation at https://www.facebook.com/COLOYORK, https://www.facebook.com/COLOJAMESTOWNE, https://instagram.com/colonialnhp/
All programs and demonstrations are included in the Colonial National Historical Park entrance fee of $7.00 per adult. Children under age 16 are admitted free. Federal Interagency Passes and Golden Age and Golden Access passports to the National Parks are accepted. For further information, log on to www.nps.gov/colo or contact Colonial National Historical Park at (757) 898-2410.
Colonial National Historical Park includes both Historic Jamestowne and Yorktown Battlefield. Historic Jamestowne is jointly administered by the National Park Service and Preservation Virginia and preserves the original site of the first permanent English settlement in the New World. Yorktown Battlefield interprets the final major battle of the American Revolution, the victory of General George Washington's army which secured independence for the United States. The Colonial Parkway continues to link the sites in its 23 miles, and is today recognized as an "All-American Road.
" ABOUT THE NATIONAL PARK SERVICE The National Park Service preserves unimpaired the natural and cultural resources and values of the National Park System and its 412 National Park sites for the enjoyment, education, and inspiration of this and future generations. The National Park Service works with partners to extend the benefits of natural and cultural resource conservation and outdoor recreation throughout this country and the world. For more information, visit www.nps.gov. -------------------------------------------------------
Last updated: February 28, 2018