The British Have Invaded Yorktown!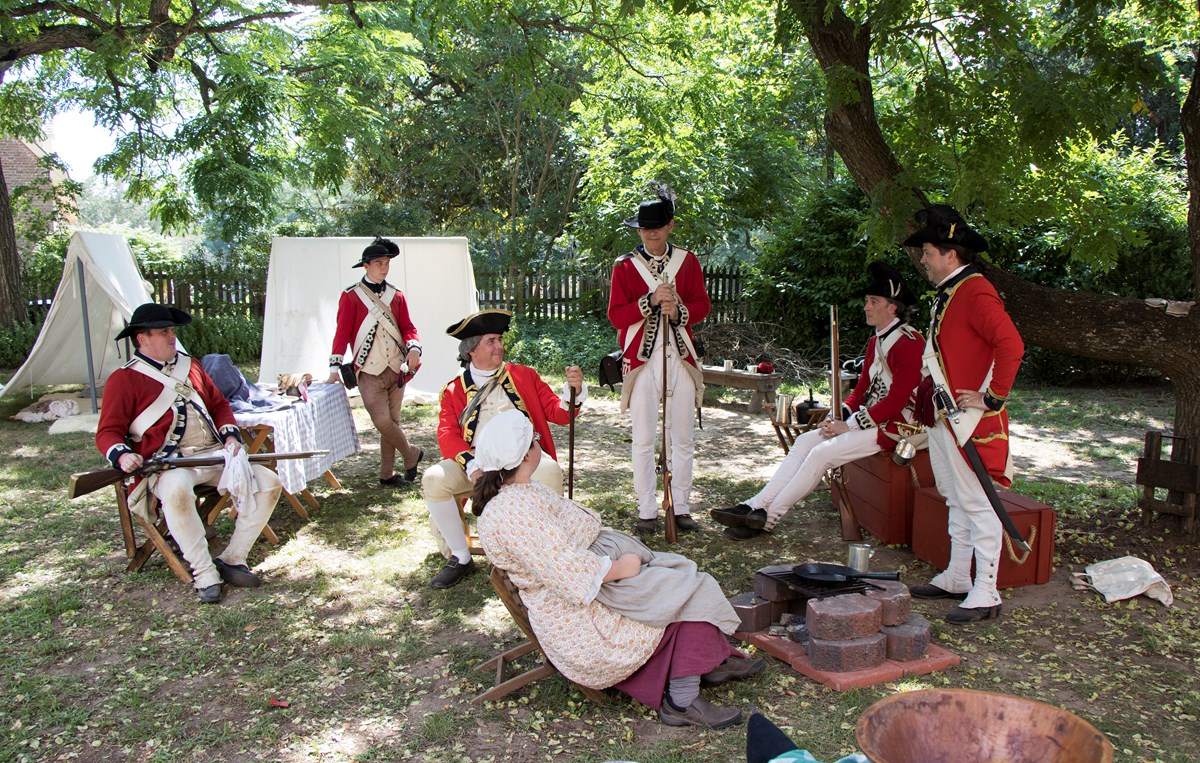 The British Have Invaded Yorktown!
3rd Annual Yorktown Before the Siege
Sept 28 – 29, 2019
Join us for an American Revolution Living History Event at on Sept 28- 29, 2019 as British forces once again occupy the streets of Yorktown.
What was life like in Yorktown in September 1781? The American and French forces are massing to attack the fortifications built to defend the British Army and naval forces. What happened to town's civilians and other refugees? How did the soldiers prepare for a siege?
Military camp and first person demonstrations begin at 9am and go on throughout the day to 4:30 on Saturday and 4:00 on Sunday. Programs will include Army and Naval forces, Medicine, Engineers, cooking, military drills, cannon firing, refugees, and period crafts. Activities will take place along Main Street, York County Museum on Main, York Hall, Customs House, Colonial National Historic Park Visitor Center and Nelson House.
Schedule subject to change.
Before the Siege Event Schedule Sept 28, 29
Schedule subject to change.
9:00 Camps Open
Roll Call – Swann Tavern
Fire Arms Inspection
10:00 Civilian Inspection by Deputy Quartermaster
10:45 Guided Tour -Visitor Center
Naval cannon firing demonstration -Drill Field
Unit Drill
11:30 Musket firing demonstration
12:15 Cannon Firing Demonstration Visitor Center
12:45 Guided Tour -Visitor Center
Naval cannon firing demonstration - Drill Field
1:15 Cannon Firing Demonstration - Visitor Center
1:30 Unit Drill Musket firing demonstration
2:15 Cannon Firing Demonstration - Visitor Center
2:45 Guided Tour -Visitor Center
Naval cannon firing demonstration- Drill Field
3:15 Cannon Firing Demonstration - Visitor Center
3:30 Unit Drill Musket firing demonstration
4:30 Camp Closed to the Public
Ongoing activities:
Officers Mess – Nelson House Yard
Engineer – Nelson House
Sailors - Summerwell House Yard
Medical – Swann Tavern
Camp Life – Swann Tavern Yard
Refugees and Civilians – Nelson House Field
Historic Crafts – throughout area
For more information contact
Colonial National Historic Park
P.O. Box 210
Yorktown,VA 23690
(757) 898-2410
https://www.nps.gov/york/index.htm
Last updated: September 13, 2019