Spring & Fall Bicycling
Every spring and fall, bicycling, including e-bikes, may be permitted on park roads while they're closed to motorized, public travel. Electric or pedal-assist bikes are considered to be bikes (as opposed to motor vehicles). They can ride anywhere bikes are allowed. Roads will not be free of cars during these times: bicyclists will encounter employees, contractors, plows, and other administrative vehicles on the roads.
If you plan to bike on any roads open to public, motorized travel, check out our bicycling page.
Current Status
Closed for biking
Scroll down the page to the map for more information on our spring and fall biking seasons.
Spring
Spring bicycling season usually starts by early April (there is no set date). Designated routes are only opened when snow removal and other pre-season business can accommodate cyclists. Please note that roads may not be plowed on weekends and snowfall can be heavy at times. The following road segments may be opened to bicycling each spring:
Mammoth Hot Springs to the West Entrance
East Entrance to the east side of Sylvan Pass (six miles from the entrance)
South Entrance to West Thumb
Fall
Fall bicycling season begins when park roads close in early November and ends when plowing operations stop so that enough snow can accumulate on the roads to support oversnow travel. Fall biking typically ends by the third week of November. The following roads may be opened to bicycling each fall:
Mammoth Hot Springs to the West Entrance
Madison Junction to Old Faithful; Tower Junction to the Chittenden Road
East Entrance to the east side of Sylvan Pass (six miles from the entrance)
South Entrance to West Thumb
Regulations
All cyclists must ride single file on the right shoulder.
If riding before sunrise and after sunset, cyclists must use a forward-facing white light and a rear-facing red light. Travel at night is not recommended.
Wild animals have the right-of-way. People must remain at least 100 yards from bears and wolves and 25 yards from all other wildlife. Prepare to wait or turn around if you encounter bison or other animals on the road: do not cause animals to run.
Spring bear closures prohibit bicycling towards Old Faithful until roads open to normal traffic in mid-to-late April.
Mammoth Hot Springs is the only campground open during spring and fall bicycling seasons. Any other overnight stays during this time require a backcountry permit. Camping is not permitted along roads.
Safety
Extreme cold, high winds, heavy snow, and driving rain are all possible during spring and fall. Expect daytime highs between 30F and 60F (0 to 20C). Check the weather forecast before you ride.
Vehicles will be traveling on roadways: bicyclists should wear a helmet and high visibility clothing.
Roads may not be plowed on weekends.
During spring high snowbanks make travel more dangerous.
Road elevations range from 5,300 to 8,860 feet (1615 to 2700 meters) above sea level, and there are no services open in the interior of the park during the spring and fall bicycling seasons: bring plenty of food, water, extra clothing, and a repair kit for your bike.
Water is available at the Madison Junction picnic area and Mammoth Hot Springs.

When riding e-bikes in national parks, follow all applicable regulations and be aware of these special safety considerations: Mount and dismount the bike carefully. The added weight of the battery and motor assist technology can add 20 or more pounds to the weight of the bike. Obey speed limits. Some e-bikes may exceed park speed limits with the motor engaged. Pay attention to traffic. Drivers may not be aware that an e-bike rider is traveling close to their speed. Slow down at intersections. Make eye contact with other drivers before crossing the intersection.

Cell phone coverage is limited in Yellowstone. Pay phones are available at Madison Junction, Norris, and Mammoth Hot Springs.
Bears are active during both the spring and fall bicycling seasons: know how to travel safely in bear country.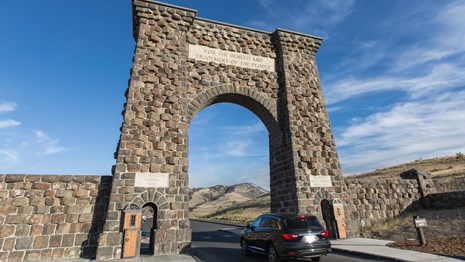 Current Conditions
Learn about things that could affect your visit before you arrive.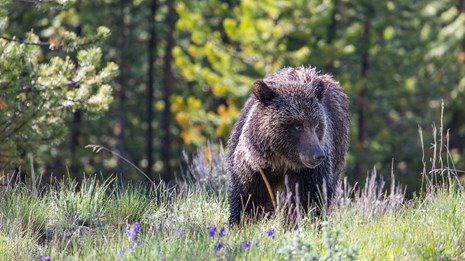 Bear Safety
Best practices for traveling safely in bear country.
Last updated: January 15, 2021