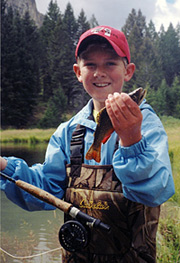 The fishing season begins the Saturday of Memorial Day weekend (usually the last weekend in May) and extends through and includes the first Sunday in November. Exceptions are noted in each of the Regional Regulations sections within the Fishing Regulations handbook (4 MB pdf).
Please take the time to review the regulations as there are recent changes.
Also note that there are areas within the park that are permanently closed to human entry and disturbance, have seasonal area and trail closures, off-trail travel and daylight hour limitations, and party size recommendations. See the Bear Management Area restrictions within the Yellowstone Backcountry Trip Planner for specific rules and information.
In addition, some streams may be temporarily closed to fishing on short notice to protect fish populations in mid-summer due to low water levels and high water temperatures.