Fall Bicycling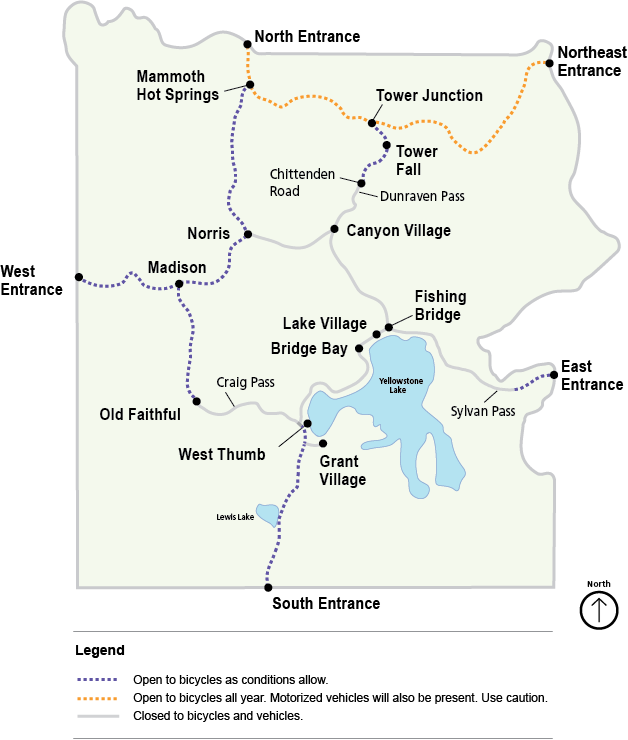 In November after most of the roads have closed to wheeled vehicles and while the roads are being prepared for winter use, a brief period of day-use bicycling, walking, jogging, roller blading, roller skiing, and similar means of non-motorized travel may be permitted on the following sections of the Grand Loop Road:
Mammoth Hot Springs to West Yellowstone
South Entrance to West Thumb
East Entrance to the east end of Sylvan Pass (six mile corner)
Tower Junction to the Chittenden Road
Madison Junction to Old Faithful
The road from the North Entrance (Gardiner, MT) to the Northeast Entrance (Cooke City, MT), is open all year to cyclists and automobiles.
Regulations
All cyclists must ride single file to the right.
If riding before sunrise and after sunset, you must use a forward-facing white light and a rear-facing red light. Travel at night is not recommended.
Stay 100 yards from bears & wolves and 25 yards from all other wildlife.
Overnight camping is not permitted unless a backcountry use permit had been obtained for a designated backcountry campsite.
Important Reminders
Wear a helmet and high visibility clothing: vehicles will be traveling on roadways.
There are no services open in the interior of the park and riders should be prepared to take care of all their own needs. Bring food, water, extra clothing, and a bicycle repair kit. Heavy snow and/or rain occurs every April in Yellowstone.
Water is available only at Madison picnic area and Mammoth.
There is very limited cell phone coverage; pay phones are available at Canyon, Madison, Mammoth, Norris, and Old Faithful.
The cleared section of the road may be narrow and covered with a layer of snow and ice, and pullouts may remain filled with snow.
Wild animals have the right-of-way and can be dangerous and unpredictable. Do not approach or feed wildlife.Turn around if bison are on the road. Do not cause them to run.
Know how to travel safely in bear country.
Last updated: October 25, 2017