An Evening at the Arch - Speakers & Performers
Schedule
7:00 to 8:30 pm - Formal Program
8:30 to 8:45 pm - Intermission
8:45 to 10:00 pm - Concert

Speakers
The Honorable Steve Bullock, Governor of Montana
Sally Jewell, U.S. Secretary of the Interior

The Honorable Matt Mead, Governor of Wyoming

Christy Goldfuss, Managing Director, White House Council on Environmental Quality

Jonathan B. Jarvis, Director, National Park Service

Dan Wenk, Superintendent, Yellowstone National Park

Theodore Roosevelt V, Great, Great Grandson of Theodore Roosevelt
Stephen Mather McPherson
,Grandson of Stephen Mather

Al Baldwin
, Board Vice Chair, National Park Foundation

Kay Yeager
, Board Chair, Merged Yellowstone Association/Yellowstone Park Foundation
Performers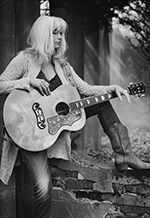 Emmylou Harris
A 13-time Grammy winner and Billboard Century Award recipient, Emmylou Harris' contribution as a singer and songwriter spans 40 years. She has recorded more than 25 albums and has lent her talents to countless fellow artists' recordings. In recognition of her remarkable career, Harris was inducted into the Country Music Hall of Fame in 2008.
Harris is known as much for her eloquently straightforward songwriting as for her incomparably expressive singing. Admired through her career for her talent as an artist and song connoisseur, Harris shook up country radio in the 1970s, and established herself as the premiere songwriter of a generation selling more than 15 million records and garnering 13 Grammy Awards, three CMA Awards, and two Americana Awards.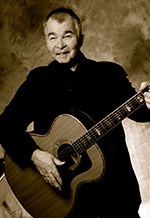 John Prine
Two time Grammy-winner, singer-songwriter, John Prine, is among the English language's premier phrase-turners. Forty-five years into a remarkable career that has drawn effusive praise from Bob Dylan, Kris Kristofferson, Bonnie Raitt, Roger Waters, Tom Petty, Bruce Springsteen, and others who would know, Prine is a smiling, shuffling force for good. He is a Nashville Songwriters Hall of Fame member whose classic debut album, simply titled John Prine, is recognized as part of the Recording Academy's Grammy Hall of Fame.
Prine's songs have been recorded by Johnny Cash, Tom T. Hall, the Everly Brothers, Carly Simon, Bette Midler, Norah Jones, George Strait, Miranda Lambert, and many others. But his genius isn't found in his resume, it's found in the brilliance of lyrics from his large catalog of songs.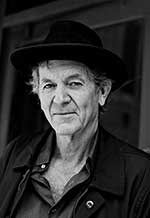 Rodney Crowell
Acting as music director for this event as well as performing, Grammy award winner Rodney Crowell has long been known as a poet among songwriters. Crowell embarked on his solo career with the 1988 releaseDiamonds and Dirt, which charted an unprecedented 5 #1 singles.He produced Rosanne Cash, Chely Wright, Shannon McNally and many more. His songs have been recorded by Emmylou Harris, Norah Jones, Lucinda Williams, Waylon Jennings, Willie Nelson, Kris Kristofferson, Rosanne Cash, Keith Urban, Van Morrison and Tim McGraw, among many, many others. His recent release with longtime friend Emmylou Harris won two Grammys and two Americana awards. He served as music director for the Tribute to the Everly Brothers at the Rock and Roll Hall of Fame, and also the recently released "I Saw The Light" biopic on the life of Hank Williams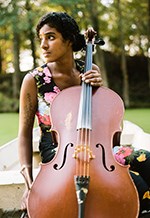 Leyla McCalla
Leyla McCalla is a New York-born Haitian-American living in New Orleans, who sings in French, Haitian Creole and English, and plays cello, tenor banjo and guitar. Deeply influenced by traditional Creole, Cajun and Haitian music, as well as by American jazz and folk, her music is at once earthy, elegant, soulful and witty —it vibrates with three centuries of history, yet also feels strikingly fresh, distinctive and contemporary.
Leyla's debut album, Vari-Colored Songs: A Tribute to Langston Hughes, was named 2013's Album of the Year by the London Sunday Times and Songlines magazine, and received additional raves from a number of other publications, including the New York Times, Boston Globe and Offbeat, for its haunting mixture of music and message.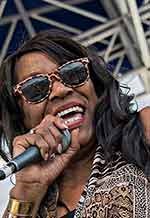 Dorothy Morrison
Dorothy is an American gospel music singer who was born in Longview Texas in 1944. She began singing at the age of 13 and released her first single, "I Am Free," while singing with her siblings as "The Combs Family." Dorothy's continued exposure while appearing with her family at church events led to her talents being noticed by others in the San Francisco and Oakland Bay Area. In the 1960's, she joined the Edwin Hawkins singers and was the lead vocalist on the Grammy winning Hall of Fame hymn, "Oh,Happy Day." She toured with Edwin Hawkins, Delaney and Bonnie, Van Morrison, Boz Skaggs and others. She appeared on TV shows including the Tonight Show starring Johnny Carson and the Carol Burnett Show. She currently tours with the Blues Broads, who have toured all over the world.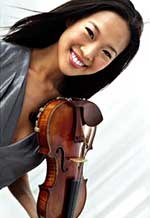 Angella Ahn
Angella Ahn is the violinist for the Ahn Trio, comprised of Angella and her two twin sisters. The group began while all three studied at the Juilliard School of Music, and now tours the world, playing in such venues as The Kennedy Center in D.C., New York's Lincoln Center, Vienna's Musikverein, Leipzig''s Gewandhaus, Argentina's Teatro Colon, and The Beijing Concert Hall. In 2011, President Obama invited the Ahn Trio to perform at the White House for a State Dinner honoring South Korea. A Professor of Violin and Viola at Montana State University, in Bozeman, MT, Angella shares the much sought-after technique of her mentor, the late Dorothy DeLay. She plays a 2013 violin made especially for her by renowned luthier Sam Zygmuntowicz of Brooklyn, New York.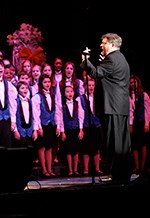 The Singing Angels

The Singing Angels, founded in Cleveland, Ohio in 1964, is a registered 501(c)(3) non-profit dedicated to youth development through the highest level of artistic achievement in the performing arts. The mission is to engage youth from all communities in quality music and performing arts education that teaches teamwork, builds confidence, and provides a foundation for life. The chorus has performed in thirty-five foreign countries, four times at the White House, and has appeared in concert with a host of stars, including Celine Dion, Cathy Rigby, Eartha Kitt, Jon Conlee, B.J. Thomas, Bob Hope, and many others. The choir will perform a piece created especially for the NPS Centennial called
Children's Earth Anthem
. The song is based on a poem by Louise Phillips and the music was composed by Charles Eversole, the choir's Artistic Director.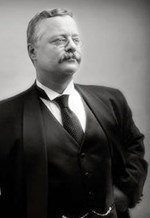 Joe Wiegand

Joe Wiegand began performing as Theodore Roosevelt (TR) in 2004. As part of a 50-state tour in honor of TR's 150th birthday, Joe performed at the White House and at Theodore Roosevelt Birthplace National Historic Site. He has been featured on the History Channel, served as the model for the newest TR sculpture at the American Museum of Natural History in New York City, and has a feature role in Wild America, an IMAX film about our national parks released in 2016.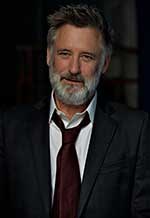 Bill Pullman
Bill Pullman started acting professionally in New York Theater in 1983, and shortly after began his film career that currently spans over seventy features and several television series, including Ruthless People, Spaceballs, The Accidental Tourist, Sleepless in Seattle, While You Were Sleeping, Independence Day, and Wyatt Earp. Bill has three films coming out in 2016: Independence Day: Resurgence, LBJ, and Brothers-in-Law. In the past fifteen years of his theater career, he has acted in six major productions in NYC and has been nominated as a best actor in four of them.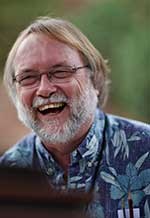 Jim Cox
Jim Cox, a native of California, has been playing the piano since the age of four. For the past thirty years he has made his living in the recording studios of southern California and has become one of the most sought-after studio musicians in Los Angeles. Jim's performing, composing, and arranging credits include recordings with Barbra Streisand, Aerosmith, Boz Scaggs, Rodney Crowell, Pink, Allison Krauss, Ray Charles, Ringo Starr, Leonard Cohen, Elton John, Arturo Sandoval, Willie Nelson, Burt Bacharach, Chris Botti, B.B. King, Lyle Lovett, Mark Knopfler and Emmylou Harris. He has also worked on hundreds of film and television soundtracks with such composers as Henry Mancini, Randy Newman, and Jerry Goldsmith.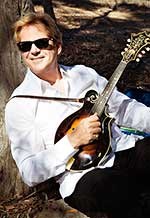 John Jorgenson
John Jorgenson is a Grammy-winning multi-instrumentalist and composer, and was named "Guitarist of the Year" 3 times by the ACM. A founding member of the acclaimed Desert Rose Band and award-winning guitar trio the Hellecasters, Jorgenson also toured and recorded with Elton John for 6 years. He has appeared onstage and on recordings with legends from all genres of music such as Luciano Pavarotti, Willie Nelson, Bob Dylan, Earl Scruggs, Bonnie Raitt, Roy Orbison and The Byrds among countless others. Known as the "US Ambassador for Gypsy Jazz" currently Jorgenson tours with his gypsy jazz ensemble The John Jorgenson Quintet, bluegrass band J2B2 and the John Jorgenson Electric Band.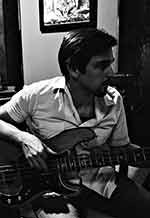 Michael Rinne
Originally from Arkansas but now a resident of Nashville, Michael Rinne has played bass for some of the finest songwriters and musicians in the world. His list of studio credits include Jack White, Alicia Keys, Emmylou Harris, Rodney Crowell, Caitlin Rose, and Andrew Combs. He also is in demand as a producer. Recent work includes international tours with the Chester Thompson Trio, and Emmylou Harris and Rodney Crowell in support of their Grammy nominated album The Traveling Kind. For the past two years he has performed with violin virtuoso Mark O'Connor. Michael recently performed on the soundtrack to the upcoming Hank Williams biopic I Saw the Light, which was released this year on Sony Pictures Classics.
John McTigue III
Award winning drummer John McTigue III current records and plays with Grammy Award Winning Emmylou Harris and Rodney Crowell. A versatile drummer, John plays all styles of music, but being Nashville based he gravitated toward the rock-a- billy and alternative country sounds. A founding member of the well-known Nashville band Brazilbilly, John was instrumental in putting the "Latin beats" behind the band's traditional country and rockabilly sound. Well respected with a unique sound, style and groove, John has played everywhere from small clubs, to touring with nationally and internationally known artists all around the USA, Canada, Mexico, Russia, Europe, UK, Australia and South America. John has appeared on HBO specials, PBS, Good Morning America, The Tonight Show, CMT, ABC's Nashville, Brazil National Television. GAC, Calgary Stampede, Pandora, and many numerous appearances on the Grand Ole Opry. He is also a teacher at the prestigious Nashville, W.O. Smith School of Music.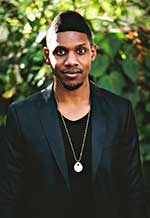 Kyle Gattison
Born and raised in the San Francisco Bay Area, Kyle Gattison began playing the piano and singing at the young age of 10 and composed his first song at the age of 12. Since his youth he has been surrounded by musical talent and has grown tremendously from it. His rich musical heritage includes his Aunt, Dorothy Morrison who was the original singer of the 60's hit, 'Oh Happy Day,' his uncle, Jerry Combs, who was signed to Warner Brothers Music in the late 60's, his uncle, Bill Combs, aka, 'Bad Child' who also released an album internationally, and last but not least, his cousin Levi Seacer Jr, who played guitar for Prince. All of these were major musical influences for Kyle. Beginning his musical journey in a small gospel church, Kyle developed a smooth, soulful sound very early in life.
Last updated: November 4, 2016