Winter Use Management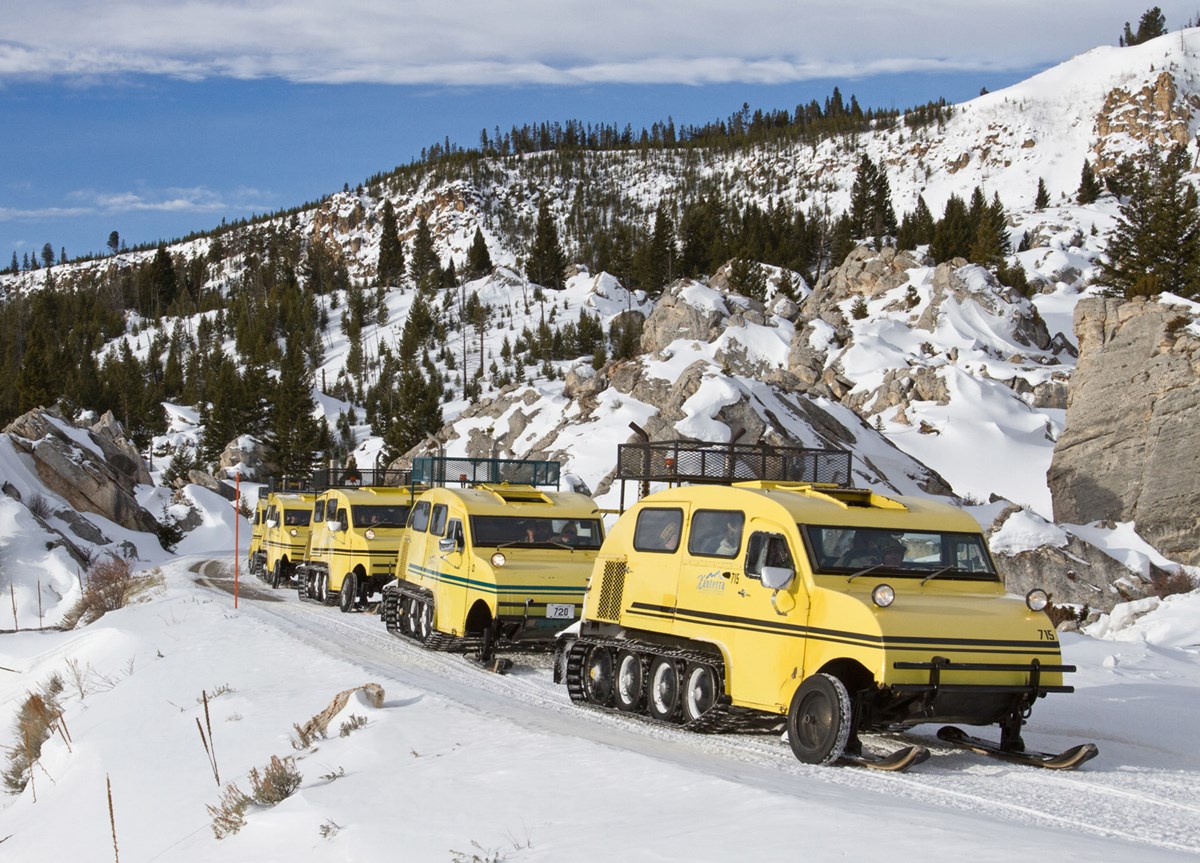 Management by "Transportation Events"
In 2012 the NPS released a draft Supplemental EIS, the seventh environmental document since 2000. This document introduced the idea of managing oversnow vehicles by "transportation events." Recognizing that a group of snowmobiles traveling together is comparable to a snowcoach in terms of impacts, a transportation event is defined as a group of up to 10 snowmobiles, averaging 7 seasonally, or 1 snowcoach. As OSVs meet stricter air and noise emission standards, group size can increase from a seasonal average of 7 to 8 snowmobiles and from 1 snowcoach to an average of 1.5 across the season. Previous management alternatives were based on managing by absolute numbers of OSVs. Through analysis of monitoring data and computer simulations, the park discovered that by packaging traffic into transportation events (i.e., groups) and limiting the total number of transportation events allowed access into the park each day, the park is able to lessen disturbances to wildlife and improve natural soundscape conditions, in addition to allowing more visitors to see the park in winter. Based on monitoring data, the NPS demonstrated that snowmobile and snowcoach transportation events have comparable impacts on Yellowstone's resources and values.
In February 2013, the NPS published a final Winter Use Plan/Supplemental EIS to guide the future of winter use in Yellowstone National Park with management by transportation events as the preferred alternative. A proposed rule was published in the Federal Register in April 2013 and the Record of Decision, which officially concludes the SEIS process by selecting management by transportation events as the final alternative, was signed in August 2013.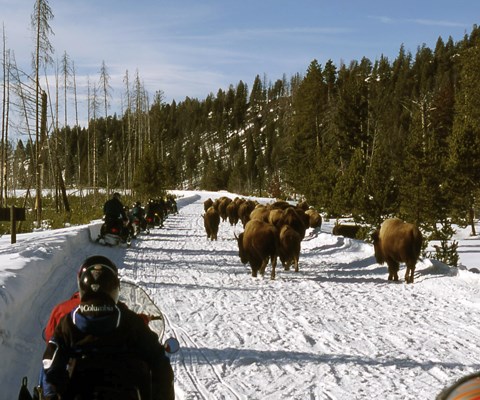 A Final Rule for Winter Use in Yellowstone
National Park Service Regulation 36 CFR 2.18 prohibits snowmobile use in national parks when there is no specific rule authorizing their use. This is known as the "closed unless open rule"—without a specific rule, oversnow vehicles would be prohibited from entering Yellowstone
The final Rule authorizing OSV use in Yellowstone was published in the Federal Register on October 23, 2013 and was based upon the environmental analyses contained within the 2013 SEIS and Record of Decision. The final Rule provides mechanisms to make the park cleaner and quieter than previously authorized; provides greater flexibility for OSV commercial tour operators; rewards new oversnow technologies; allows for increases in public visitation. The specific parameters established by the final Rule for winter use in Yellowstone are:
Up to 110 daily transportation events.
46 reserved for commercially guided snowmobiles,
4 reserved for non-commercially guided snowmobiles
No less than 60 events reserved for snowcoaches;
New "best available technology" (New BAT) is required for snowmobiles by December 2015. Under New BAT, snowmobile transportation events can be up to 10 snowmobiles in a group, with group size averaging 7 each winter.
BAT is required for all snowcoaches by December 2016, sooner for newer models.
Voluntary "Enhanced BAT" (E-BAT) certification will allow commercial tour operators to increase the average numbers of snowmobiles in their groups from 7 to 8 and snowcoaches from 1 to 1.5 across the season.
One non-commercially guided group of up to five snowmobiles is permitted to enter through each of the four park entrances every day.
OSVs may continue to use Sylvan Pass; however, the pass may be closed at any time due to avalanche danger or mitigation efforts.
Park managers are collaborating with the public by implementing an Adaptive Management Program, which will combine science with public input, to ensure that OSV use impacts stay within limits predicted in the final Plan/SEIS.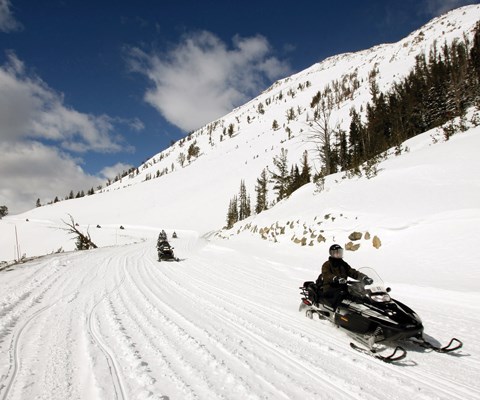 Adaptive Management Program
The final Rule authorizes an adaptive management program to inform and improve winter use management. Adaptive management is a three-step process: Management, monitoring, and evaluation improve resource protection by blending science and public engagement. It enables natural resource managers to acknowledge uncertainties in the management of natural systems and respond to changing conditions while working with the public and interested stakeholders. Collaborative adaptive management, the approach Yellowstone is taking, emphasizes joint learning and an active partnership between managers, scientists, and other stakeholders, including the public.
The objectives of the program are to:
Evaluate the impacts of OSV use and help managers implement actions that keep impacts within the range predicted under the final Plan/SEIS.
Gather additional data to compare impacts from a group of snowmobiles versus a snowcoach.
Reduce impacts on park resources after implementation of the final Rule by gathering additional data on the overall social and ecological impacts of winter use.
To meet these objectives, the NPS has collaborated with the public and other partners to develop a long-term, sustainable adaptive management plan for winter use in Yellowstone National Park. This plan outlines a process for public engagement and for prioritizing indicators to address scientific uncertainty and monitor resources of interest. NPS staff released a draft adaptive management plan for winter use to the public in May 2015, and expects to complete a final adaptive management and monitoring plan by the 2016–2017 winter season. Public input is included through participation in the Adaptive Management Team and the Adaptive Management Working Group. Meetings are also held throughout the region and have been available remotely via webinar.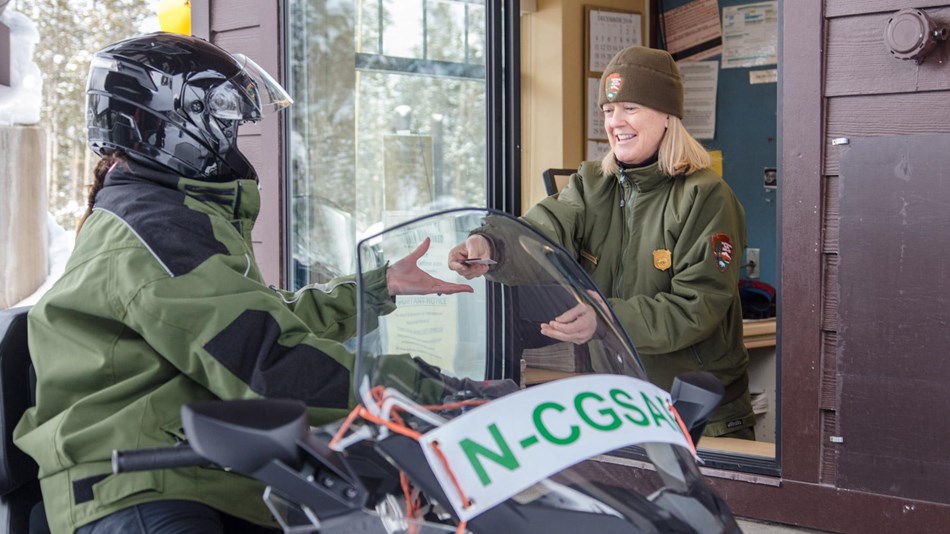 Winter Use Adaptive Management Program
The management of winter use in Yellowstone National Park permits up to 110 transportation events per day.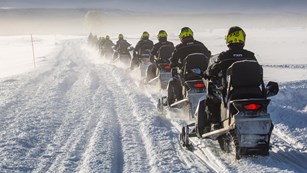 Current Winter Use Updates
The enjoyment of Yellowstone and its unique resources during the wintertime has drawn interest in the park for nearly 80 years.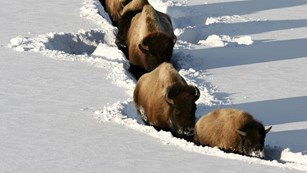 Winter Ecology
Though the wildlife and plants of Greater Yellowstone are adapted to its cold, snowy winters, surviving the winter season can be a struggle.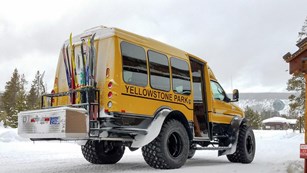 Winter Use Frequently Asked Questions
Research shows that snowmobiles and snowcoaches contribute similarly to the impacts of winter use.
Resources
Bishop, G.A., et al. 2009. Portable emission measurements of Yellowstone park snowcoaches and snowmobiles. Journal of the Air and Waste Management Association 59: 936–942.
Bissegger, Jy. 2005. Snowmobiles in Yellowstone: Conflicting oriorities in set- ting national parks policy and the paradox of judicial activism for recreational business. Journal of Land, Resources, and Environmental Law. 25:109–118.
Borkowski, J.J. et al. 2006. Wildlife responses to motorized winter recreation in Yellowstone National Park. Ecological Applications. 16:1911–1925.
Bruggerman, J.E. et al. 2006. Temporal variability in winter travel patterns of Yellowstone bison: the effects of road grooming. Ecological Applications. 16:1539–1554.
Burson, S. 2009. Natural soundscape monitoring in Yellowstone National Park, December 2008–March 2009. www.nps. gov/yell/parkmgmt/upload/10_2009_winter_soundscape_monitoring.pdf
Dustin, D.L. and I.E. Schneider. 2005. The science of politics/the politics of science: Examining the snowmobile controversy in Yellowstone National Park. Environmental Management. 34:761–767.
Freimund, W., et al. 2009. Final Report: Winter experiences of Old Faithful visitors in Yellowstone National Park. Submitted by University of Montana, Department of Society and Conservation.
Layzer, J. 2006. The Environmental Case: Translating Values into Policy. Washington: CQ Press.
NPS. 2013. Winter use plan/Supplemental environmental impact statement. Yellowstone National Park, Wyoming.
Yochim, M.J. 2009. Yellowstone and the Snowmobile: Locking Horns over National Park Use. Lawrence, Kansas: Lawrence University Press.
Last updated: April 23, 2018