Rainbow Trout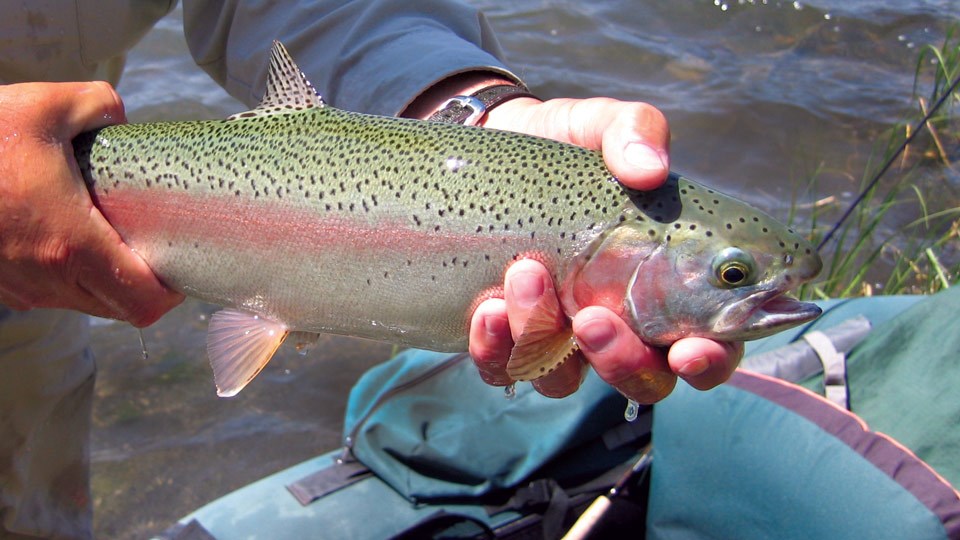 Rainbow trout (Oncorhynchus mykiss) are native to North America in waters which drain to the Pacific Ocean from northern Mexico to Alaska. Of the nonnative fish in Yellowstone, the rainbow trout has the closest origin. As the most adaptable members of the trout family, they have been successfully introduced throughout the world.
Description
Silvery body, red lateral band, often white on the edge of lateral fins.
Numerous spots on head and back, none on belly
Behavior
Mainly spring spawners between March-July.
Eats aquatic and terrestrial insect, crustaceans, mollusks and earthworms.
Eat more algae than other trout.
Distribution
Widely distributed due to historic stocking efforts.
Not present in Yellowstone Lake.
Not present in the Yellowstone River above the Upper Falls or the Snake River.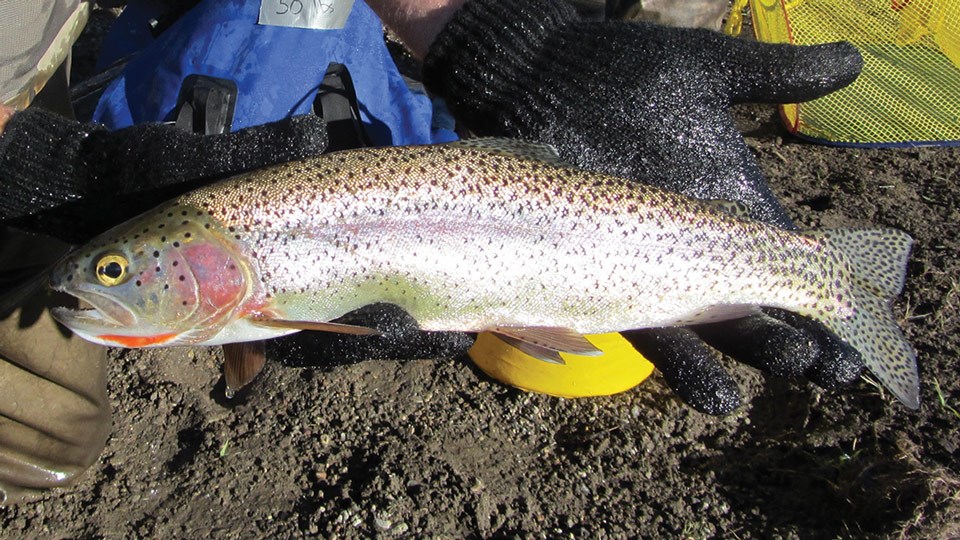 Resources
Bigelow, P.E. 2009. Predicting areas of lake trout spawning habitat within Yellowstone Lake, Wyoming. Doctoral dissertation, University of Wyoming, Laramie, WY.
Gresswell, R.E. 2009. Scientific review panel evaluation of the National Park Service lake trout suppression program in Yellowstone Lake, August 25–29, 2008: Final report, October 2009, Edited by USGS Northern Rocky Mountain Science Center. Bozeman, MT.
Koel, T.M., P.E. Bigelow, P.D. Doepke, B.D. Ertel, and D.L. Mahony. 2005. Nonnative lake trout result in Yellowstone cutthroat trout decline and impacts to bears and anglers. Fisheries 30(11):10–19.
Koel, T.M., P.E. Bigelow, P.D. Doepke, B.D. Ertel, and D.L. Mahony. 2006. Conserving Yellowstone cutthroat trout for the future of the Greater Yellowstone Ecosystem: Yellowstone's Aquatic Sciences Program. Yellowstone Science 14(2).
Middleton, A.D., T.A. Morrison, J.K. Fortin, M.J. Kauffman, C.T. Robbins, K.M. Proffitt, P.J. White, D.E. McWhirter, T.M. Koel, D. Brimeyer, and W.S. Fairbanks. 2013. Grizzly bears link non-native trout to migratory elk in Yellowstone. Proceedings of the Royal Society B 280:20130870.
Munro, A.R., T.E. McMahon, and J.R. Ruzycki. 2006. Where did they come from?: Natural chemical markers identify source and date of lake trout introduction in Yellowstone Lake. Yellowstone Science 14(2).
Wyoming Water Project. 2014. Science supporting management of Yellowstone Lake fisheries: Responses to frequently asked questions. Trout Unlimited: Lander, WY.
Ruzycki, J.R., D.A. Beauchamp, and D.L. Yule. 2003. Effects of introduced lake trout on native cutthroat trout in Yellowstone Lake. Ecological Applications 13:23–37.
Last updated: March 11, 2020