Nonnative Fish Species
Nonnative Fish Species
Nonnative fish distribution and their influence on native fish are not static. While they have not been intentionally stocked since the 1930s, nonnative fish continue to advance into new habitats and hybridize with or displace native fish that previously persisted in the face of extreme environmental change for thousands of years.
Hybridization of cutthroat trout resulting from rainbow trout range expansion continues to be the greatest threat to the park's remaining native fish populations in waters outside the Yellowstone River headwaters, Yellowstone Lake, and the Snake River headwaters.
Not all of the movement by nonnative fish in Yellowstone has occurred naturally. Nonnative lake trout, intentionally introduced by managers in 1890 to Lewis and Shoshone lakes, and illegally introduced (possibly intentionally) to Yellowstone Lake in the mid-1980s, first appeared in angler catches in 1994. The lake trout population expanded and, over the following decade, caused a rapid decline in the Yellowstone cutthroat trout population in Yellowstone Lake.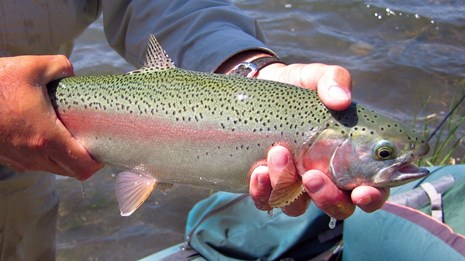 Rainbow Trout
Rainbow trout are native to North America in waters which drain to the Pacific Ocean from northern Mexico to Alaska.
Eastern Brook Trout
Eastern brook trout was the first nonnative species introduced in Yellowstone—stocked in the (then fishless) Firehole River in 1889.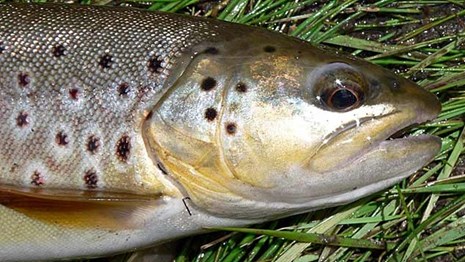 Brown Trout
The brown trout is the only nonnative fish species in Yellowstone that is not native to North America.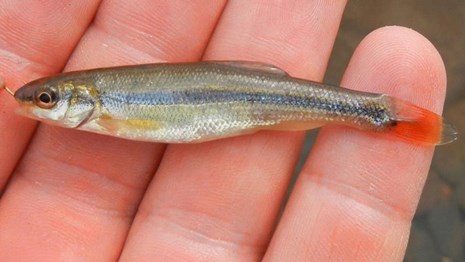 Lake Chub
Native to the Missouri and Yellowstone river drainages in Montana and Wyoming, the lake chub is not native to Yellowstone National Park.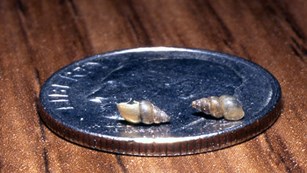 New Zealand Mud Snails
New Zealand mudsnails are invasive and have a significant detrimental effect on Yellowstone.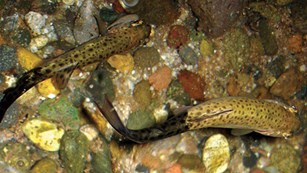 Whirling Disease
Whirling disease can infect some trout and salmon.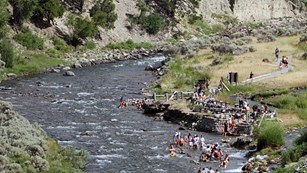 Red-rimmed Melania
Red-rimmed melania, a small snail, was discovered in a warm swimming area.
Resources
The Yellowstone Resources and Issues Handbook, updated annually, is the book our rangers use to answer many basic park questions.
Bartholomew, J.L. and P.W. Reno. 2002. The history and dissemination of whirling disease. In J.L. Bartholomew and J. C. Wilson, ed., Whirling disease: Reviews and current topics. Vol. Symposium 29. Bethesda, MD: American Fisheries Society.
Franke, M.A. 1997. A grand experiment: The tide turns in the 1950s: Part II. Yellowstone Science 5(1).
Franke, M.A. 1996. A grand experiment: 100 years of fisheries management in Yellowstone: Part I. Yellowstone Science 4(4).
Kerans, B.L. and A.V. Zale. 2002. The ecology of Myxobolus cerebralis. In J.L. Bartholomew and J.C. Wilson, ed., Whirling disease: Reviews and current topics, 145–166. Vol. Symposium 29. Bethesda, MD: American Fisheries Society.
Koel, T.M., D.L. Mahony, K.L. Kinnan, C. Rasmussen, C.J. Hudson, S. Murcia, and B.L. Kerans. 2007. Whirling disease and native cutthroat trout of the Yellowstone Lake ecosystem. Yellowstone Science 15(2).
Koel, T. et al. 2014. Yellowstone Fisheries and Aquatic Sciences Report 2012–2013. National Park Service: Yellowstone National Park.
MacConnell, E. et al. 1997. Susceptibility of grayling, rainbow, and cutthroat trout to whirling disease by natural exposure to Myxobolus cerebralis. Whirling Disease Symposium, Logan, UT.
Murcia, S., B.L. Kerans, E. MacConnell, and T.M. Koel. 2006. Myxobolus cerebralis infection patterns in Yellowstone cutthroat trout after natural exposure. Diseases of Aquatic Organisms 71(3):191–199.
National Exotic Marine and Estuarine Species Information System
National Park Service. 2011. Native Fish Conservation Plan /Environmental Assessment for Yellowstone National Park. Yellowstone Center for Resources.
Varley, J.D. and P. Schullery. 1998. Yellowstone fishes: Ecology, history, and angling in the park. Mechanicsburg, PA: Stackpole Books.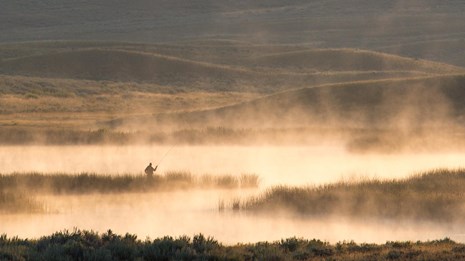 Catch a Fish
Be a responsible angler and understand the regulations before you come.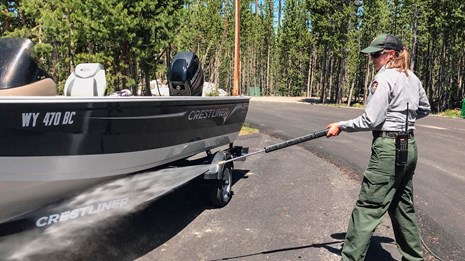 Clean, Drain, and Dry
Protect park waters by preventing the spread of aquatic invasive species.
Wildlife
Learn about the park's abundant and diverse species—67 mammals, 330 birds, 16 fish, 5 amphibians, and 6 reptiles.
Last updated: September 10, 2019