Lake Trout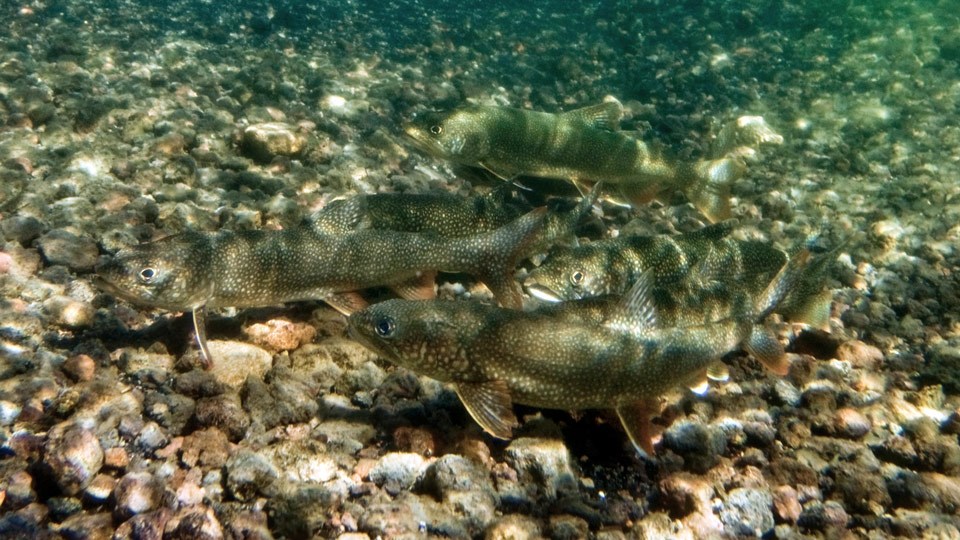 Lake trout (Salvelinus namaycush) are native to Canada, Alaska, the Great Lakes, New England, and parts of Montana. Lake trout were intentionally stocked in Lewis and Shoshone lakes in 1890 by the U.S. Fish Commission (a predecessor of today's US Fish & Wildlife Service). The species was first documented in Yellowstone Lake in 1994. Evidence from chemical patterns in lake trout ear bones sampled in the late 1990s indicate that they were introduced illegally (possibly intentionally) from a nearby lake some time in the 1980s. Despite major efforts to remove them by gillnetting, the lake trout have had a significant ecological impact on the native Yellowstone cutthroat trout, an important food for other native animals. Lake trout differ from cutthroat trout as potential prey because they can grow larger, occupy deeper areas of the lake, and spawn in the lake instead of shallow tributaries.
Description
Dark gray body with white spots. Numerous spots on head.
Deeply forked tail.
Often white on the edge of fins.
Behavior
Lake trout are voracious, efficient predators.
Frequently live 20–25 years and grow very large. The Wyoming state record catch was approximately 50 pounds (23 kg).
Fall spawners (September/October). A 12lb female could produce up to 9,000 eggs annually.
About 30% of a mature lake trout's diet is cutthroat trout. They can eat up to 41 cutthroat trout per year and can consume cutthroat trout up to 55% their own size.
Distribution
Heart, Lewis, Shoshone, and Yellowstone lakes.
Population in Yellowstone Lake
Lake trout are a serious threat to the native Yellowstone cutthroat trout population and, as a result, the National Park Service has worked to suppress the population. Although lake trout need energy-rich prey to continue to grow, they can persist for years with minimal food resources. Non-native lake trout could decimate the native cutthroat trout population and then persist at high numbers on other foods, giving cutthroat trout no chance to recover. Lake trout also consume foods that have historically fed cutthroat trout in Yellowstone Lake, thereby making cutthroat trout recovery impossible until the lake trout population is suppressed.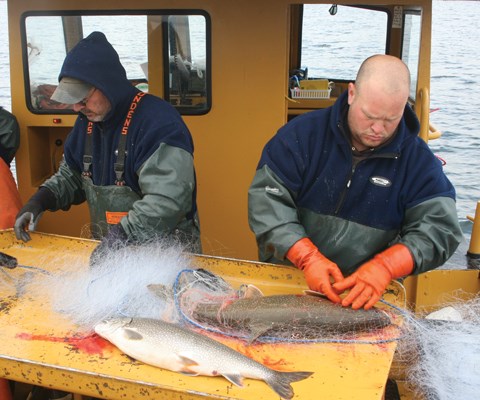 Taking action
In 1995, after confirming lake trout were successfully reproducing in Yellowstone Lake, the National Park Service (NPS) convened a panel of expert scientists to determine the likely extent of the problem, recommend actions, and identify research needs. The panel recommended that the park suppress lake trout in order to protect and restore native cutthroat trout. The panel also indicated that direct removal efforts such as gillnetting or trap netting would be most effective but would require a long-term, possibly perpetual, commitment.
Lake trout gillnetting begins as ice is leaving the lake in spring and continues into October. Gillnet operations remove lake trout from the population and also provide valuable data—numbers, age structure, maturity, and potential new spawning areas—leading to more effective control. Incidental catch of native cutthroat trout is reduced by fishing deeper waters not typically used by cutthroat trout.
Initial removal efforts were expanded to increase gillneting more than 10-fold. In response, the number of lake trout removed from the population doubled. The increased catch suggested the lake trout population was continuing to grow. In 2008 and 2011, a new scientific panel was convened to re-evaluate the program and goals. The panel concluded netting is still the most viable option for suppressing lake trout. Both reviews also indicated a considerable increase in suppression effort would be needed over many years to collapse the lake trout population.
Starting in 2009, the park contracted a commercial fishing company, to increase the take of lake trout. From 2011 to 2013, they also used large, live entrapment nets that allow removal of large lake trout from shallow water while returning cutthroat trout to the lake with little mortality.
Anglers also contribute to lake trout management. They are encouraged to fish for lake trout, and are required to kill all lake trout caught in Yellowstone Lake and its tributaries. They tend to be most successful at catching lake trout 15–24 inches long, which are found in near-shore waters in June and early July. Of the total lake trout removed from Yellowstone Lake, anglers have removed approximately 5 percent.
Lake Trout Response to Increased Suppression Efforts
More than 2.4 million lake trout have been removed from Yellowstone Lake since 1994. In 2016, National Park Service and contracted crews captured more than 366,400 lake trout. The number of lake trout caught during distribution surveys remained relatively constant from 2010-2015, ranging from 347-575 fish annually, with a mean total length ranging from 309-330 millimeters (12-13 inches). Over the past five years, we have seen a gradual decrease in the number of large adult (sexually mature) lake trout caught during the surveys. In general, the largest numbers of lake trout were caught in the West Thumb region and along the east shoreline/southern arms portion of Yellowstone Lake. The north shore had the least lake trout.
Increases in catch can reflect increased efficiency, increased abundance, or both. Improvements in fishing gear, increased knowledge of how lake trout use the ecosystem, and experienced personnel can lead to increases in catch and more efficient removal, despite a decreasing population. Hence, independently monitoring the effectiveness and effects of suppression activities, as well as updating population models, is an important aspect of the program.
Population modeling has shown that the lake trout population continued to expand through at least 2011, but increased gillnetting over the last few years has begun to reduce lake trout numbers and biomass (total weight) in Yellowstone Lake. Abundance models show no population growth for lake trout age 2 and older, and a decrease in fish older than 3 years. If this continues, the reproductive and expansion potential of the population will be reduced. Also, total annual mortality rates have been steadily increasing over the last several years and have exceeded 50% in two of the last three years, which should decrease the population size. In addition, the total biomass of lake trout removed has increased in recent years to more than 0.5 kilograms per hectare, which should eventually lead to a population crash.
Research guides methodology
In 2010, Yellowstone developed the Native Fish Conservation Plan. This adaptive management plan guides efforts to recover native fish and restore natural ecosystem functions based on scientific assessment.
In 2011, the National Park Service and the US Geological Survey launched a movement study to pinpoint lake trout spawning beds and identify general and seasonal movement patterns. Over 300 lake trout were equipped with telemetry tags and over 40 stationary receivers were deployed throughout the lake to monitor movements. The results help gillnet operations to target lake trout more efficiently. They also provide important details to alternative suppression methods that may target lake trout embryo in spawning areas.
Hydroacoustic surveys (using sonar-based fish finders) are also used to assess lake trout's seasonal movements within the lake. The surveys confirmed lake trout concentrations in the western portion of Yellowstone Lake. These surveys also revealed medium-sized (12–16 inches) lake trout tended to reside in deeper water (greater than 130 feet) than Yellowstone cutthroat trout. Now biologists can more easily target lake trout without harming cutthroat trout. Hydroacoustic data also provides minimum abundance estimates of both cutthroat and lake trout, which is invaluable information for long-term evaluation of control efforts.
Additionally, NPS and Montana State University began a mark/recapture study of lake trout in Yellowstone Lake in 2013. In order to estimate population size, 2,400 lake trout captured in trap nets were given 2 plastic tags (similar to clothing tags) and released back to the lake. Tagged fish later caught in suppression nets or via angling were documented and used to estimate the number of lake trout present in the lake: 367,650 fish greater than 210 millimeters (8.3 inches) long. The mark-recapture study also enabled an estimate of the probability of capture for four size classes. To date, 85% of tagged fish have been recaptured by netting or anglers. The study estimated that we removed 72% of lake trout 210-451 millimeters (8.3-17.8 inches) in length, 56% for fish 451-541 millimeters (17.8-21.3 inches) long, 48% for fish 541-610 millimeters (21.3-24.0 inches) long, and 45% for fish more than 610 millimeters (more than 24.0 inches) long . These results supported previous estimates and highlighted the difficultly in catching older, mature lake trout, which eat the most native cutthroat trout and have the highest reproductive success.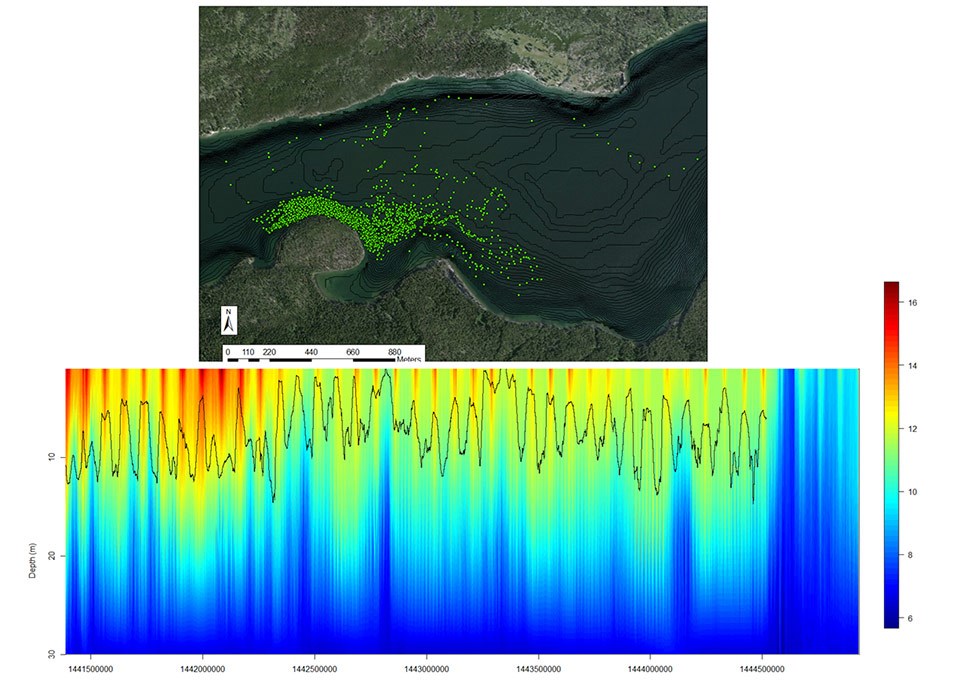 Future of Lake Trout Control
With current technology, lake trout probably cannot be eliminated from Yellowstone Lake. However, ongoing management of the problem can significantly reduce lake trout population growth and maintain the cutthroat trout population, which is a critical ecological link between Yellowstone Lake and its surrounding landscape.
The magnitude of the lake trout problem in Yellowstone Lake remains enormous. Reducing the lake trout population to a level that will have only minor impacts to the cutthroat trout population is predicted to take until 2025, provided we maintain current high levels of suppression effort. Given the high reproductive potential of this lake trout population, we will regress immediately and likely dramatically if we reduce the amount of suppression effort applied without adequate alternative techniques.
Present research efforts by Yellowstone National Park biologists and collaborating scientists at the USGS Montana Cooperative Fishery Research Unit and Montana State University, are to locate all lake trout spawning habitats and evaluate the effectiveness of electricity, tarping, chemical, and suction-dredging suppression techniques at killing lake trout embryos in spawning sites.
Resources
Bigelow, P.E. 2009. Predicting areas of lake trout spawning habitat within Yellowstone Lake, Wyoming. Doctoral dissertation, University of Wyoming, Laramie, WY.
Gresswell, R.E. 2009. Scientific review panel evaluation of the National Park Service lake trout suppression program in Yellowstone Lake, August 25–29, 2008: Final report, October 2009, Edited by USGS Northern Rocky Mountain Science Center. Bozeman, MT.
Koel, T.M., P.E. Bigelow, P.D. Doepke, B.D. Ertel, and D.L. Mahony. 2005. Nonnative lake trout result in Yellowstone cutthroat trout decline and impacts to bears and anglers. Fisheries 30(11):10–19.
Koel, T.M., P.E. Bigelow, P.D. Doepke, B.D. Ertel, and D.L. Mahony. 2006. Conserving Yellowstone cutthroat trout for the future of the Greater Yellowstone Ecosystem: Yellowstone's Aquatic Sciences Program. Yellowstone Science 14(2).
Middleton, A.D., T.A. Morrison, J.K. Fortin, M.J. Kauffman, C.T. Robbins, K.M. Proffitt, P.J. White, D.E. McWhirter, T.M. Koel, D. Brimeyer, and W.S. Fairbanks. 2013. Grizzly bears link non-native trout to migratory elk in Yellowstone. Proceedings of the Royal Society B 280:20130870.
Munro, A.R., T.E. McMahon, and J.R. Ruzycki. 2006. Where did they come from?: Natural chemical markers identify source and date of lake trout introduction in Yellowstone Lake. Yellowstone Science 14(2).
Wyoming Water Project. 2014. Science supporting management of Yellowstone Lake fisheries: Responses to frequently asked questions. Trout Unlimited: Lander, WY.
Ruzycki, J.R., D.A. Beauchamp, and D.L. Yule. 2003. Effects of introduced lake trout on native cutthroat trout in Yellowstone Lake. Ecological Applications 13:23–37.
Last updated: April 19, 2017