Lake Chub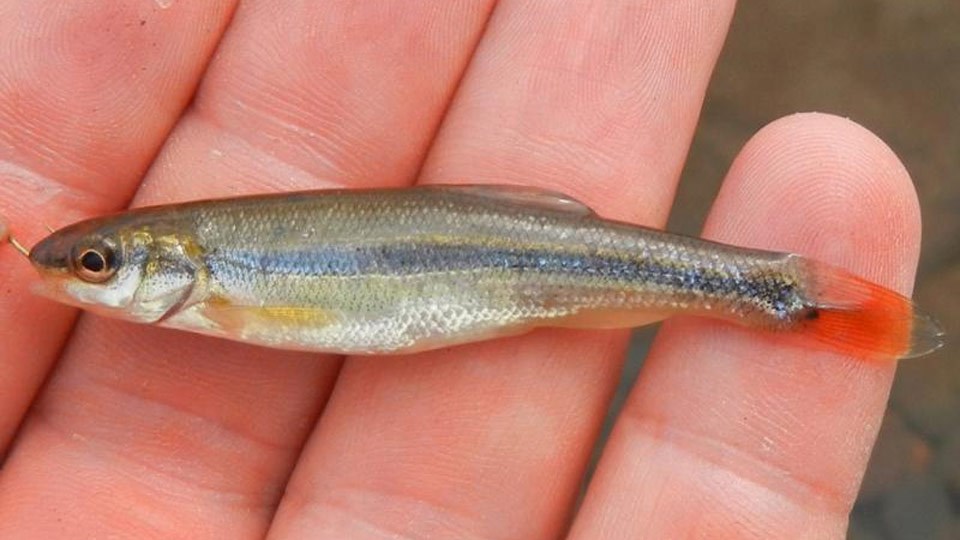 Though native to the Missouri and Yellowstone river drainages in Montana and Wyoming, the lake chub (Couesius plumbeus) is not native to Yellowstone National Park waters. It was most likely introduced by bait fishermen into Yellowstone Lake, McBride Lake, and Abundance Lake in the Slough Creek drainage.
Resources
Bigelow, P.E. 2009. Predicting areas of lake trout spawning habitat within Yellowstone Lake, Wyoming. Doctoral dissertation, University of Wyoming, Laramie, WY.
Gresswell, R.E. 2009. Scientific review panel evaluation of the National Park Service lake trout suppression program in Yellowstone Lake, August 25–29, 2008: Final report, October 2009, Edited by USGS Northern Rocky Mountain Science Center. Bozeman, MT.
Koel, T.M., P.E. Bigelow, P.D. Doepke, B.D. Ertel, and D.L. Mahony. 2005. Nonnative lake trout result in Yellowstone cutthroat trout decline and impacts to bears and anglers. Fisheries 30(11):10–19.
Koel, T.M., P.E. Bigelow, P.D. Doepke, B.D. Ertel, and D.L. Mahony. 2006. Conserving Yellowstone cutthroat trout for the future of the Greater Yellowstone Ecosystem: Yellowstone's Aquatic Sciences Program. Yellowstone Science 14(2).
Middleton, A.D., T.A. Morrison, J.K. Fortin, M.J. Kauffman, C.T. Robbins, K.M. Proffitt, P.J. White, D.E. McWhirter, T.M. Koel, D. Brimeyer, and W.S. Fairbanks. 2013. Grizzly bears link non-native trout to migratory elk in Yellowstone. Proceedings of the Royal Society B 280:20130870.
Munro, A.R., T.E. McMahon, and J.R. Ruzycki. 2006. Where did they come from?: Natural chemical markers identify source and date of lake trout introduction in Yellowstone Lake. Yellowstone Science 14(2).
Wyoming Water Project. 2014. Science supporting management of Yellowstone Lake fisheries: Responses to frequently asked questions. Trout Unlimited: Lander, WY.
Ruzycki, J.R., D.A. Beauchamp, and D.L. Yule. 2003. Effects of introduced lake trout on native cutthroat trout in Yellowstone Lake. Ecological Applications 13:23–37.
Last updated: July 13, 2020