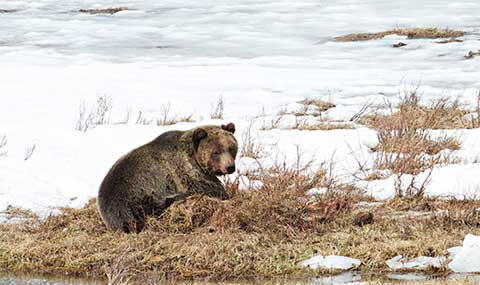 Population
The estimated Greater Yellowstone Ecosystem grizzly bear population increased from 136 in 1975 to an estimated 757 in 2014, and then declined to 690 bears in 2016. The bears have gradually expanded their occupied habitat by more than 50%. As monitored by the Interagency Grizzly Bear Study Team, the criteria used to determine whether the population within the Greater Yellowstone Ecosystem has recovered include estimated population size, distribution of females with cubs, and mortality rates. An estimated 150 grizzly bears occupy ranges that lie partly or entirely within Yellowstone. The number of females producing cubs in the park has remained relatively stable since 1996, suggesting that the park may be at or near ecological carrying capacity for grizzly bears.
There were 58 known and probable grizzly bear mortalities in the Greater Yellowstone Ecosystem in 2016. Thirty-eight were attributed to human causes. Four were of undetermined cause, 4 were natural deaths, and 14 were still under investigation at the time of this printing.
One human conflict with grizzly bears occurred inside the park in 2016, when a grizzly obtained garbage from a broken bear-resistant dumpster. There were no grizzly or black bear attacks on people in the park in 2016. Three grizzly bears were known to have died in 2016, a 19-year-old male was killed by a vehicle, a 25-year-old male died of complications of old age, and a cub was killed by another bear. (Learn More: Your Safety in Bear Country)
Description
The grizzly bear's color varies from blond to black, often with pale-tipped guard hairs. In the Greater Yellowstone Ecosystem, many grizzly bears have a light brown girth band. However, the coloration of black and grizzly bears is so variable that it is not a reliable means of distinguishing the two species.
Bears are generally solitary, although they may tolerate other bears when food is plentiful. Grizzlies have a social hierarchy in which adult male bears dominate the best habitats and food sources, generally followed by mature females with cubs, then by other single adult bears. Subadult bears, who are just learning to live on their own away from mother's protection, are most likely to be living in poor-quality habitat or in areas nearer roads and developments. Thus, young adult bears are most vulnerable to danger from humans and other bears, and to being conditioned to human foods. Food-conditioned bears are removed from the wild population.
Diet
Bears are generalist omnivores that can only poorly digest parts of plants. They typically forage for plants when they have the highest nutrient availability and digestibility. Although grizzly bears make substantial use of forested areas, they make more use of large, non- forested meadows and valleys than black bears. The longer, less curved claws and larger shoulder muscle mass of the grizzly bear makes it better suited to dig plants from the soil, and rodents from their caches.
Grizzly bear food consumption is influenced by annual and seasonal variations in available foods. Over the course of a year, army cutworm moths, whitebark pine nuts, ungulates, and cutthroat trout are the highest-quality food items available. In total, grizzly bears in the Greater Yellowstone Ecosystem are known to consume at least 266 species of plant (67%), invertebrate (15%), mammal (11%), fish, and fungi. They will eat human food and garbage where they can get it. This is why managers emphasize that keeping human foods secure from bears increases the likelihood that humans and bears can peacefully coexist in greater Yellowstone.
Bears spend most of their time feeding, especially during "hyperphagia," the period in autumn when they may gain more than three pounds per day until they enter their dens to hibernate. In years and locations when whitebark pine nuts are available, they are the most important bear food from September through October. However, not all bears have access to whitebark pine nuts, and in the absence of this high-quality food, the bear's omnivory lets them turn to different food sources. Fall foods also include pondweed root, sweet cicely root, grasses and sedges, bistort, yampa, strawberry, globe huckleberry, grouse whortleberry, buffaloberry, clover, horsetail, dandelion, ungulates (including carcasses), ants, false truffles, and army cutworm moths.
From late March to early May, when they come out of hibernation, until mid May, a grizzly bear's diet primarily consists of elk, bison, and other ungulates. These ungulates are primarily winter-killed carrion (already dead and decaying animals), and elk calves killed by predation. Grizzly bears dig up caches made by pocket gophers. Other items consumed during spring include grasses and sedges, dandelion, clover, spring-beauty, horsetail, and ants. When there is an abundance of whitebark seeds left from the previous fall, grizzly bears will feed on seeds that red squirrels have stored in middens.
From June through August, grizzly bears consume thistle, biscuitroot, fireweed, and army cutworm moths in addition to grasses and sedges, dandelion, clover, spring-beauty, whitebark pine nuts, horsetail, and ants. Grizzly bears are rarely able to catch elk calves after mid-July. Starting around mid-summer, grizzly bears begin feeding on strawberry, globe huckleberry, grouse whortleberry, and buffaloberry. By late summer, false truffles, bistort, and yampa are included in the diet as grasses and others become less prominent.