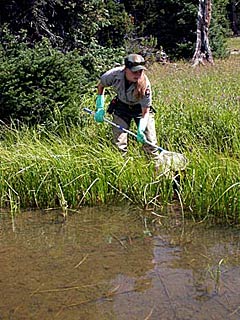 Native vs. Nonnative Fishes in Yellowstone
Yellowstone has 13 fish native to its lakes and streams. Native sport fish include three subspecies of cutthroat trout, fluvial arctic grayling, and mountain whitefish. Non-native fish species that were introduced to the park in the late 19th and early 20th centuries include rainbow trout, brown trout, brook trout, and lake trout. Although non-native trout are also important to the angler experience in Yellowstone, they have contributed to a decline in the park's native cutthroat trout and fluvial arctic grayling, especially recently.
History of Fisheries Management
When Yellowstone became a national park, almost 40 percent of Yellowstone's waters were naturally barren of fish—including Shoshone Lake, Lewis Lake, and the Firehole River above Firehole Falls. Early park managers thought it necessary to plant fish into new locations, produce more fish in hatcheries, and introduce non-native species. By the mid-20th century, more than 310 million fish had been stocked in Yellowstone. Because of the realization that many of these activities were harmful to the park, stocking of fishes in the park ended in 1956.