Native Fish Species
For millennia, humans harvested Yellowstone fish for food. From the park's inception more than a century ago, fishing has been a major form of visitor recreation. It is this long-standing tradition and integration with the parks' cultural significance that allows the practice of recreational fishing to continue in Yellowstone National Park today. In some cases, it also contributes to the National Park Service goal of preserving native species. The biological significance of fish to ecosystems makes them an ongoing subject of study and concern.
Native Fish Species
Yellowstone's native fish underpin natural food webs, have great local economic significance, and provide exceptional visitor experiences. Though policies of the National Park Service (NPS) provide substantial protection from pollution and land-use practices that often degrade habitat, historic management efforts by the park service and the US Fish Commission subjected native species to impacts from nonnative fish introductions, egg-taking operations, commercial fishing, and intensive sport-fishery harvest into the middle of the twentieth century.
To reverse declining native fish populations and loss of ecosystem integrity, the NPS now takes action to promote their recovery. A Native Fish Conservation Plan/Environmental Assessment was completed in 2010. The NPS aims to reduce long-term extinction risk and restore the ecological role of native species, including Arctic grayling, westslope cutthroat trout, and Yellowstone cutthroat trout, while ensuring sustainable native fish angling and viewing opportunities for visitors. Scientific peer review continues to provide guidance for future Yellowstone fisheries efforts. The NPS strives to use the best methods available for addressing threats, with a focus on direct intervention and welcome assistance by visiting anglers.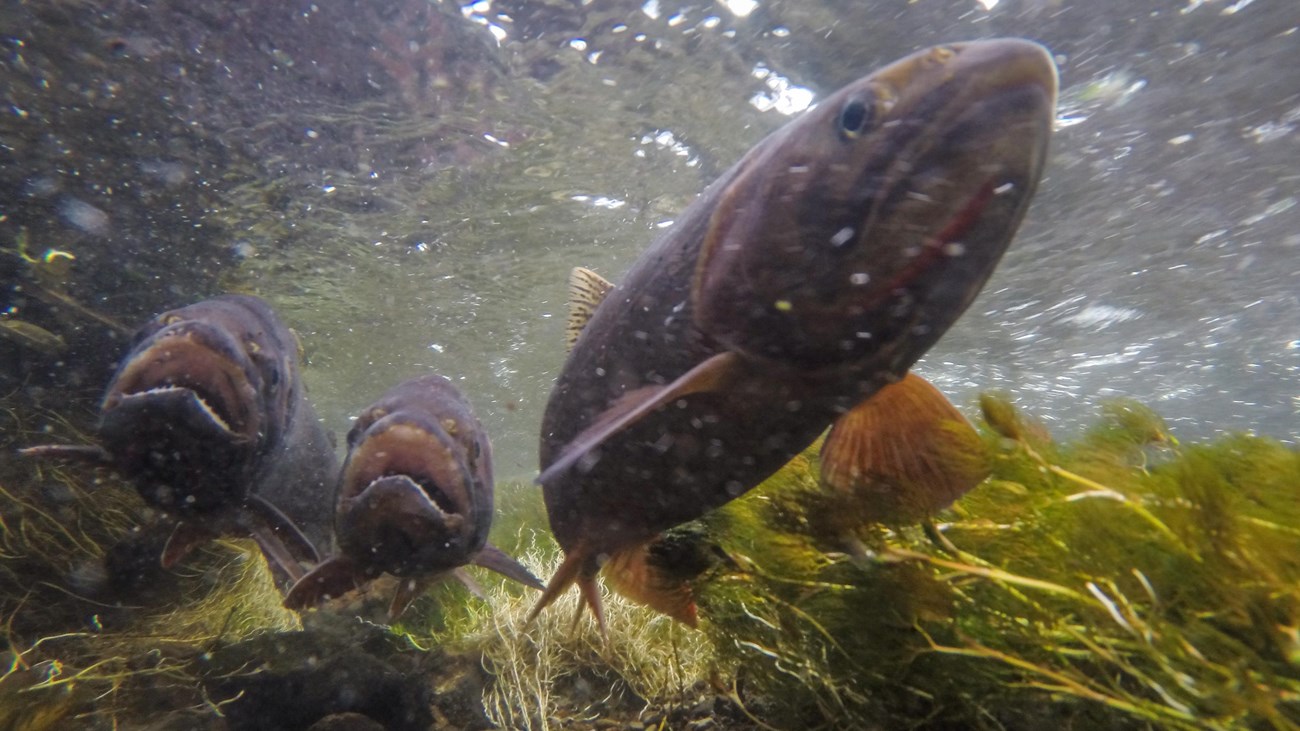 Yellowstone Cutthroat Trout
Yellowstone cutthroat trout are the most widespread native fish in the park.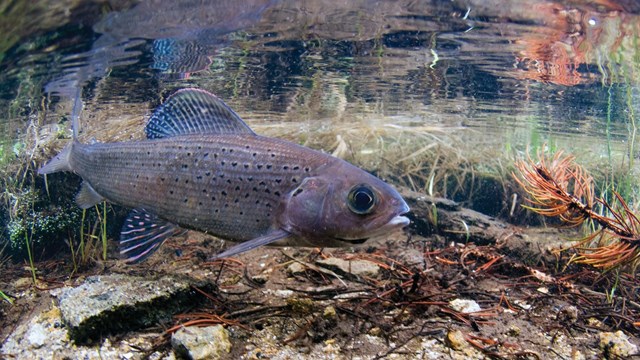 Arctic Grayling
Making a comeback due to park restoration efforts.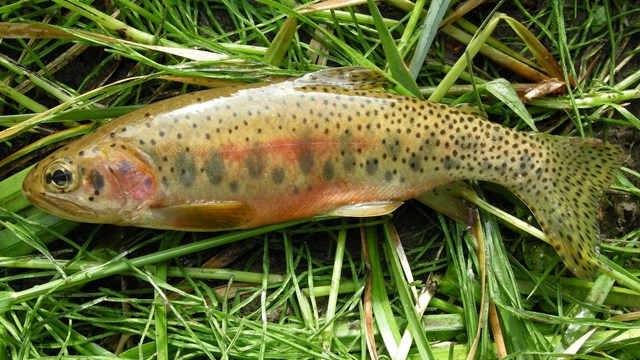 Westslope Cutthroat Trout
Historically the most abundant and widely distributed subspecies of cutthroat trout throughout the West.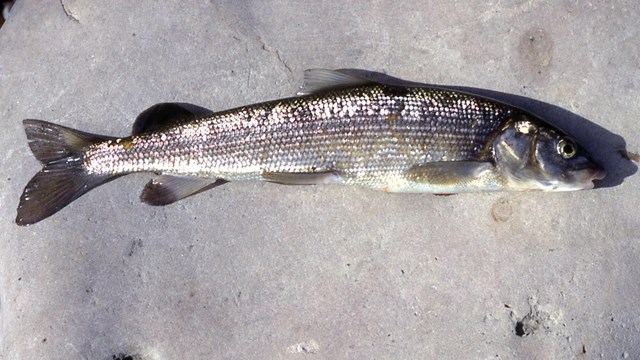 Mountain Whitefish
Lives in rivers and streams with deep pools, clear and clean water.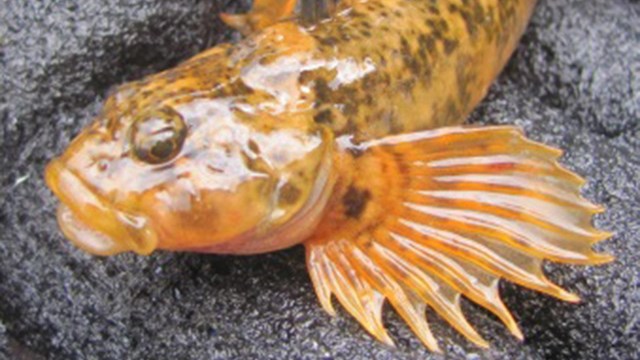 Mottled Sculpin
Mottled sculpin live in shallow, cold water throughout Yellowstone except the Yellowstone River above Lower Falls and in Yellowstone Lake.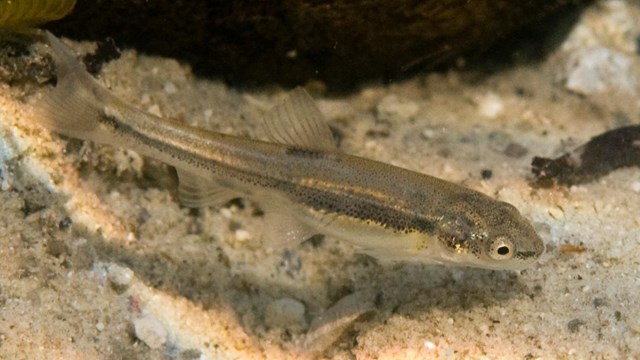 Minnows
Yellowstone's minnows are small fish living in a variety of habitats and eating a variety of foods.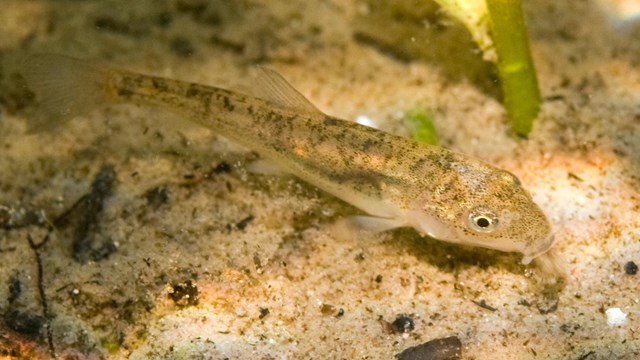 Suckers
Suckers are bottom-dwelling fish that use ridges on their jaws to scrape flora and fauna from rocks.
History
About 8,000-10,000 years ago twelve species (or subspecies) of native fish, including Arctic grayling, mountain whitefish, and cutthroat trout, dispersed to this region following glacier melt. These native fish species provided food for both wildlife and human inhabitants. The distribution of native fish species was originally constrained by natural waterfalls and watershed divides. These landscape features provided a natural variation of species distributed across the landscape and vast areas of fishless water. At the time Yellowstone National Park was established in 1872, approximately 40% of its waters were barren of fish—including Lewis Lake, Shoshone Lake, and the Firehole River above Firehole Falls.
Park inhabitants and visitors fished for sustenance and recreation in this wild, remote place. While most hunting was curtailed by early park management, fishing was not only allowed but encouraged. Driven by the desire to establish recreational fishing in more park waters and new technology that enabled the long-distance transport of fish, early park managers stocked fish into fishless waters, reared fish in hatcheries, and introduced several nonnative species. The majority of successful nonnative fish introductions were trout species (lake trout, brook trout, brown trout, and rainbow trout). Fish native to the park were also moved into many waters where they were not originally found.
Constrained by geography, the native fish within the stocked waters were forced to reside with nonnatives, be displaced, or die out. The ranges and densities of Yellowstone's native trout and grayling were substantially altered. Nonnative species contributed to the decline in the park's native fish population by competing for food and habitat, preying on native fish, and degrading genetic integrity through hybridization. By the 1930s, managers realized the destructive impact caused by nonnative fish. As a result, the National Park Service (NPS) created a formal stocking policy to discontinue stocking nonnative fish species.
Even though the stocking of non-natives stopped, stocking of Yellowstone cutthroat trout from Yellowstone Lake continued both within and outside the species' native range. Overall, from the early 1880s to the mid-1950s, more than 300 million fish were stocked throughout Yellowstone. Today, about 40 lakes have fish; others were either not stocked or have reverted to their original fishless condition.
Influences of Some Nonnative Species
Aquatic invasive species disrupt ecological processes because they are not indigenous to the ecosystem. Invasive organisms can cause species extinction, with the highest extinction rates occurring in freshwater environments. Aquatic nonnative species that are having a significant detrimental effect on the park's aquatic ecology include lake trout in Yellowstone Lake; brook, brown, and rainbow trout in the park's streams and rivers; and the parasite that causes whirling disease. Though there are other aquatic nonnative species in the park, their impacts do not appear to be as significant.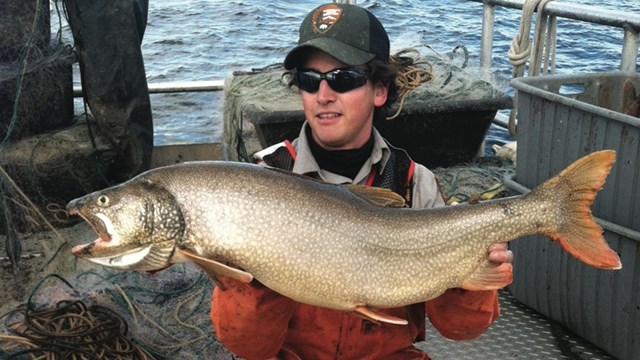 Nonnative Fish
Lake trout and other invasive species pose many threats to Yellowstone's aquatic ecosystem.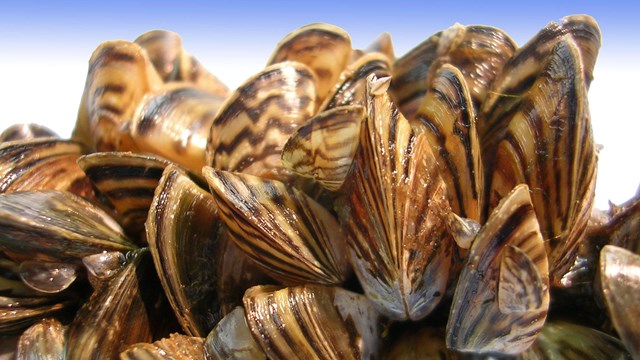 Aquatic Invasive Species
Aquatic invasive species can disrupt ecological processes.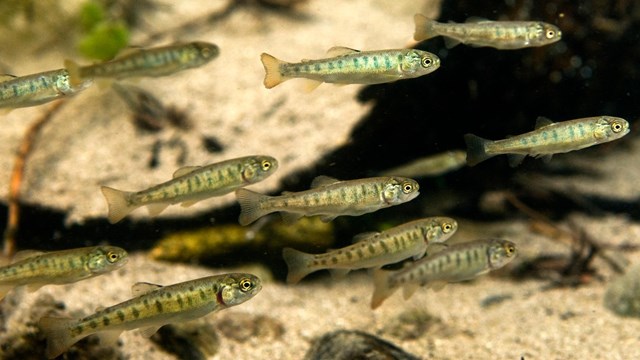 Native Fish Conservation Program
Learn how the Native Fish Conservation Program works to preserve Yellowstone Lake cutthroat trout and to restore fluvial trout populations.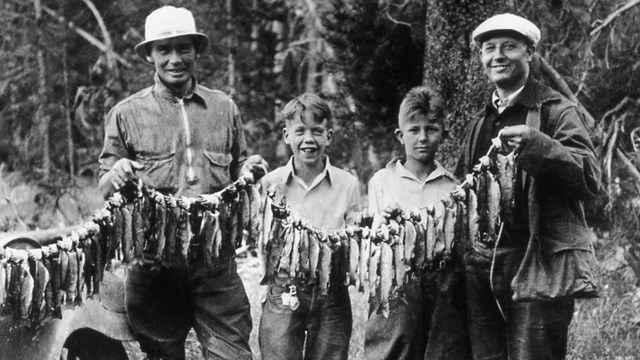 Yellowstone Lake Fish Hatchery
Fishing has a long history in Yellowstone. The Lake Fish Hatchery produced trout that were used to stock waters in the park and elsewhere.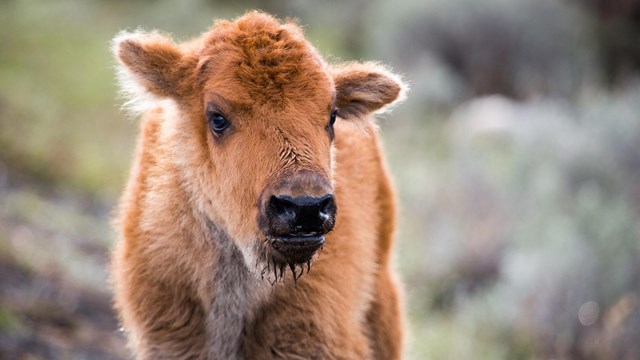 Wildlife
Learn about the park's abundant and diverse species—67 mammals, 330 birds, 16 fish, 5 amphibians, and 6 reptiles.
Last updated: May 8, 2023