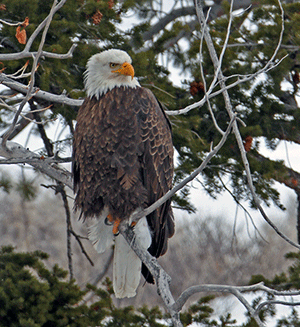 Population
Bald eagles, which may reuse the same nest year after year, occupy territories near the park's major rivers and lakes. The number of eaglets that fledge each year depends partly on weather and can fluctuate widely. Juveniles may migrate west in the fall but adults often stay in the park year-round. More than half of the park's known bald eagle nests have been in the Yellowstone Lake area, where the productivity and success rates are generally much lower than in the rest of the park. However, in 2015, eight of eleven active nests on Yellowstone Lake were successful, indicating that eagles may have switched to other prey sources in the absence of cutthroat trout.
Outlook
Research has shown that human presence can disturb eagle nesting and foraging, therefore nest areas in national parks may be closed to visitors. Yellowstone manages nest sites on a case by case basis.
From 2010 to 2015, a raptor observation program documented 24 raptor species in Yellowstone. Bald eagles were the second most commonly reported species (16%) after red-tailed hawks (22%). A recent study found little evidence to support the claim that cutthroat trout declines have resulted in lower nesting success for bald eagles on Yellowstone Lake.