Aquatic Invasive Species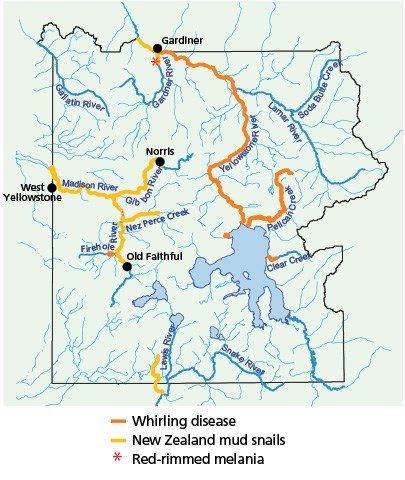 An aquatic invasive species disrupts ecological processes because it is not indigenous to the ecosystem. Invasive organisms can cause species extinction, with the highest extinction rates occurring in freshwater environments. In addition to nonnative fish in Yellowstone, three aquatic invasive species are having a significant detrimental effect:
Myxobolus cerebralis, a parasite that causes whirling disease in cutthroat trout and other species.
New Zealand mud snails (Potamopyrgus antipodarum), which form dense colonies and compete with native species; and
Red-rimmed melania (Melanoides tuberculatus), a small snail imported by the aquarium trade starting in the 1930s, was discovered in the warm swimming area at the confluence of the Boiling River with the Gardner River in 2009.
Smallmouth bass (Micropterus dolomieu) was captured by an angler outside the park, in the Yellowstone River just downstream of the Gardner River confluence, in February 2022. Smallmouth bass have been shown to greatly reduce populations of native trout when they invade an area. Subsequent eDNA surveys of the area did not detect any further smallmouth bass DNA in the water.
Preventing the arrival of additional aquatic invasive species is critical because eliminating them after they become established in a watershed is usually impossible and efforts to reduce their impact can be extremely expensive. Each summer a small team of park technicians inspect the crafts brought in by park visitors before they put their boats or angling gear in the water. They inspect visitor's equipment and decontaminate it, if necessary. Such decontamination is usually adequate to prevent the entry of most aquatic invasive species.
Arrival in Yellowstone
During the late 1880s when the Army administered Yellowstone, the US Fish Commission (a predecessor of today's US Fish and Wildlife Service) stocked nonnative fish in some park waters. These stockings comprise the first known, deliberate introductions of nonnative fish to Yellowstone. Four trout species were widely introduced—brook, brown, lake, and rainbow. Rainbow trout hybridize with native cutthroat trout, thus diluting genetic diversity. All four compete with and prey upon native fish.
Other aquatic invasive species, such as the New Zealand mud snail and the parasite causing whirling disease, probably arrived via unaware visitors and anglers carrying the organisms from other locations around the country. We may never know exactly how those species were introduced to the park, but anglers can help prevent other species from arriving.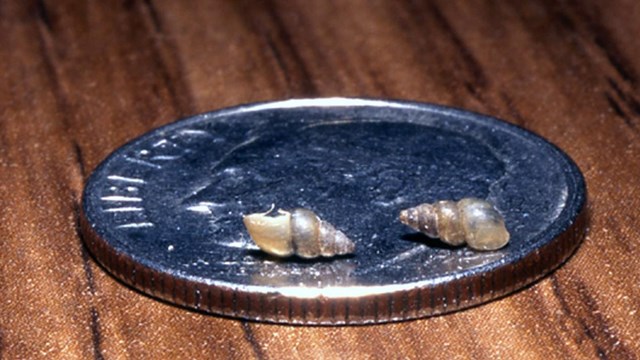 New Zealand Mud Snails
New Zealand mudsnails are invasive and have a significant detrimental effect on Yellowstone.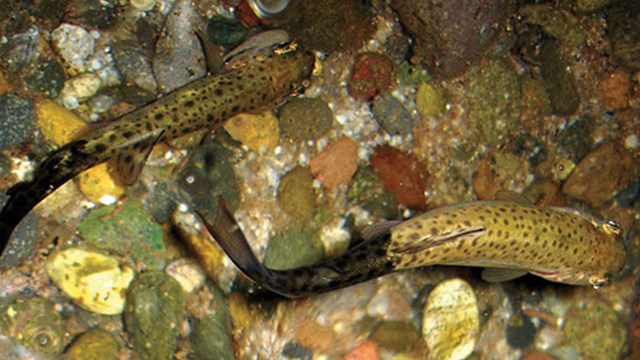 Whirling Disease
Whirling disease can infect some trout and salmon.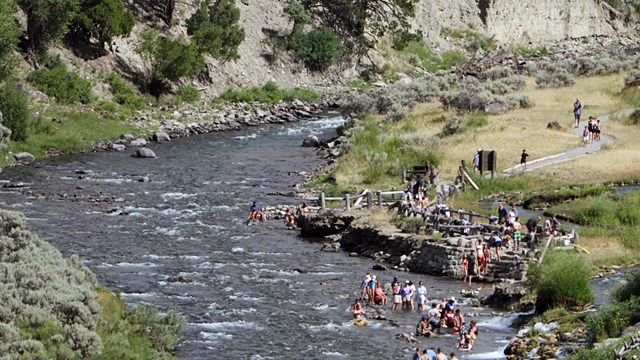 Red-rimmed Melania
Red-rimmed melania, a small snail, was discovered in a warm swimming area.
Incoming Threats
The aquatic invasive species which pose the greatest risk to ecologic, recreational, and economic values in the Yellowstone area include zebra and quagga mussels, Asian clams, Asian carp species, Eurasian watermilfoil, hydrilla, flowering rush, and viral hemorrhagic septicemia. Fisheries biologists believe several of these species are moving toward Yellowstone.
Their arrival might be avoided if anglers remember:
Remove all plants, animals, mud, sand, and other debris from your boat, boots, and equipment.
Do not dump water or organisms from other sources into Yellowstone waters.
Drain your boat bilge area, live well, and other compartments away from all waters.
Dry all equipment in the sun for 5 days or use high-pressure, hot (>140°F) water to clean your boat, trailer, waders, boots, and equipment.
Resources
The Yellowstone Resources and Issues Handbook, updated annually, is the book our rangers use to answer many basic park questions.
Bartholomew, J.L. and P.W. Reno. 2002. The history and dissemination of whirling disease. In J.L. Bartholomew and J. C. Wilson, ed., Whirling disease: Reviews and current topics. Vol. Symposium 29. Bethesda, MD: American Fisheries Society.
Franke, M.A. 1997. A grand experiment: The tide turns in the 1950s: Part II. Yellowstone Science 5(1).
Franke, M.A. 1996. A grand experiment: 100 years of fisheries management in Yellowstone: Part I. Yellowstone Science 4(4).
Kerans, B.L. and A.V. Zale. 2002. The ecology of Myxobolus cerebralis. In J.L. Bartholomew and J.C. Wilson, ed., Whirling disease: Reviews and current topics, 145–166. Vol. Symposium 29. Bethesda, MD: American Fisheries Society.
Koel, T.M., D.L. Mahony, K.L. Kinnan, C. Rasmussen, C.J. Hudson, S. Murcia, and B.L. Kerans. 2007. Whirling disease and native cutthroat trout of the Yellowstone Lake ecosystem. Yellowstone Science 15(2).
Koel, T. et al. 2014. Yellowstone Fisheries and Aquatic Sciences Report 2012–2013. National Park Service: Yellowstone National Park.
MacConnell, E. et al. 1997. Susceptibility of grayling, rainbow, and cutthroat trout to whirling disease by natural exposure to Myxobolus cerebralis. Whirling Disease Symposium, Logan, UT.
Murcia, S., B.L. Kerans, E. MacConnell, and T.M. Koel. 2006. Myxobolus cerebralis infection patterns in Yellowstone cutthroat trout after natural exposure. Diseases of Aquatic Organisms 71(3):191–199.
National Exotic Marine and Estuarine Species Information System
National Park Service. 2011. Native Fish Conservation Plan /Environmental Assessment for Yellowstone National Park. Yellowstone Center for Resources.
Varley, J.D. and P. Schullery. 1998. Yellowstone fishes: Ecology, history, and angling in the park. Mechanicsburg, PA: Stackpole Books.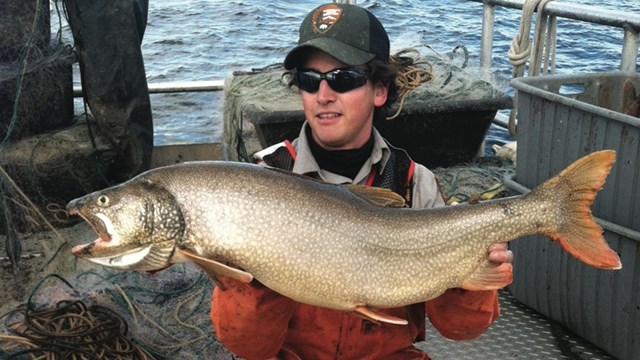 Nonnative Fish
Lake trout and other invasive species pose many threats to Yellowstone's aquatic ecosystem.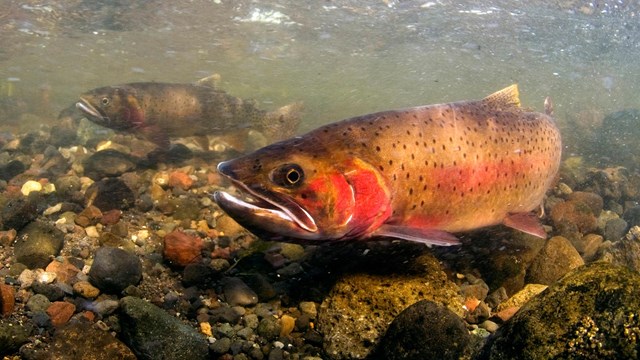 Native Fish Species
Native fish underpin natural food webs and have great local economic significance.
Last updated: May 17, 2023