Wildland Fire Program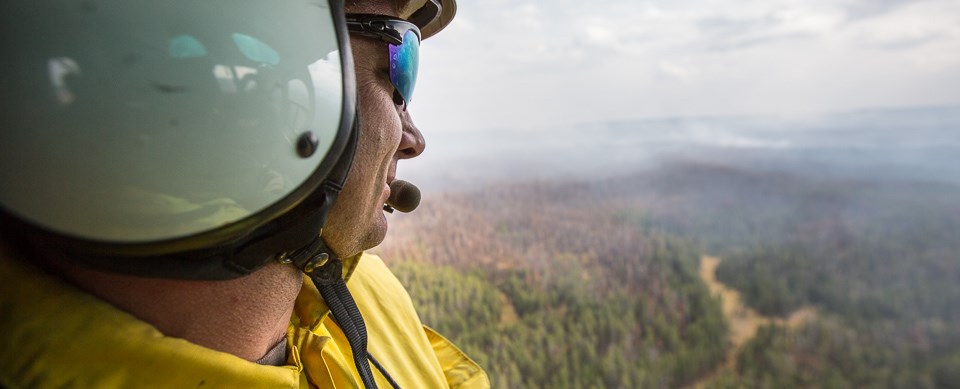 Dispatch
Yellowstone's Fire and Aviation Dispatch Center is responsible for taking fire reports from Yellowstone's fire lookouts, visitors, and other park employees. The appropriate resources are then selected by the Duty Officer and dispatched to the location. After the resources arrive on scene, the dispatch office takes any requests for additional personnel, supplies, aircraft, engines, or equipment. If possible, these are filled with park resources. If they are not, dispatch will pass on the request to Bozeman Interagency Dispatch where it will be filled or moved up to the next level of the dispatch chain.
When Yellowstone receives a request for its resources to go outside of the park on assignment, the dispatch office is also responsible for finding the requested resource and dispatching the resource to the appropriate location.
The dispatch office is responsible for tracking all resources assigned to park incidents as well as the area just outside the northern and northeastern boundary. Besides fire, this includes search and rescue (SAR) operations, and any special incidents such as Presidential visits, large law enforcement operations, and special events. The dispatch office is responsible for flight-following with aircraft in Yellowstone. This consists of maintaining regular check-ins and location of numerous research flights, the contract helicopter, search and rescue aircraft, and project aircraft. In addition, the dispatch office is responsible for ordering and tracking lifeflights for medical incidents and calls.
Engines
Yellowstone has one wildland fire engine staffed cooperatively with the Custer Gallatin National Forest. Each agency contributes personnel from May through October. The engine supports the initial attack of fires locally, as well as large firefighting efforts throughout the country.
Generally, engine crews are used for initial attack on developing fires close to roads. However, the crew can hike or be flown to fires in more remote areas. Engine crews support fireline production, structure protection, and helicopter operations. One advantage of engine crews is the ability to use water to build wetline. Wetline is fireline that uses water in place of digging to mineral soil, which minimizes the impact to vegetation and limits erosion.
Structure triage is the process of identifying which structures can be saved and which cannot be saved. For those structures that can be saved, sprinklers and foil wrap can be used for protection. Reducing fuels around the structures is also a valuable technique to reduce the intensity of fires around structures.
Yellowstone maintains a cache of pumps and water handling equipment. Pumps are available in several different varieties and capacities from small pumps for mopping up to large pumps to support structure protection.
Helitack
The Yellowstone Helitack Crew is an eight-person crew that responds to wildfires as well as search and rescue operations (SAR). They manage and staff a Type 3 Helicopter based at Mammoth Hot Springs, seven days a week from mid-June until October.
Our helitack crew is trained in all aspects of safe helicopter operations, including size-up and initial attack of wildfires as well as passenger and cargo transport by short haul and longline.
When fire activity in Yellowstone is low, the helicopter and crew assist other forests and parks all over the United States with wildfire and SAR operations. When not working on wildfires or assisting with search and rescue operations, crew members assist with fuels projects, hazard tree removal, and assisting the many other park operations where their skills and unique talents are needed.
Lookouts
The Yellowstone Fire Management Office maintains two fire lookout stations located on Mt. Washburn (10,219 feet) and Mt. Sheridan (10,308 feet). Only Mt. Washburn is continuously staffed from mid-June until the end of the fire season in the fall. The Mt. Washburn lookout is accessible by vehicle, though visitors must hike to it. Mt. Sheridan is supported logistically by pack animals and a helicopter when staffed.
The lookouts serve two primary functions: fire detection and fire monitoring. Each lookout is staffed with a trained firefighter who is provided with cell phones, radios, and high quality optical equipment. Additionally, each station has a conventional Osborne fire finder—a sighting device used to calculate azimuth and range. In an average year, Yellowstone has approximately 25 fires. Around 80% are caused by lightning.
Fuels Management
Fuels management includes both planned prescribed burns and other mechanical treatments to change and/or reduce wildland fuels. The goal of Yellowstone National Park's fuels management program is to reduce hazardous fuel loads near developed areas. "Fuels" are defined as all living and dead plant material that can be ignited by a fire. Fuel characteristics strongly influence fire behavior and the resulting fire effects on ecosystems. Hazard fuel reduction around developed areas provides for firefighter safety and structure protection in the event of a wildfire. Reducing hazard fuels has become increasingly important to reducing the risk of severe wildland fire to human communities and for maintaining or improving the health of the Yellowstone ecosystem.
Effects Monitoring
The National Park Service maintains the Fire Effects Monitoring Program to monitor the effects of planned fire management actions. The Yellowstone fire effects monitoring crew collects information on the long-term effects of fire and fire management activities. The crew collects data on fuel loads, plant populations, tree regeneration, non-native species and other aspects of the park's ecosystems. Monitoring is a major component of the adaptive management process.
Wildland fire management requires up-to-date information on weather and fuels, which the fire effects monitoring crew provides. The crew is in charge of a network of weather stations used for collecting afternoon fire weather parameters, and collects live and dead fuels throughout the season at various locations across the park. They also monitor precipitation amounts, drought indices, and lightning occurrences which are used to determine the current and expected fire danger.
Once a fire starts, fire effects monitors collect information on the fire behavior, fuels, vegetation, terrain, and weather within the fire area. They also map the perimeter of the fire, and all of this information helps fire managers to predict the fire's anticipated direction, intensity and spread rates.
More Information
Last updated: August 26, 2021