Transportation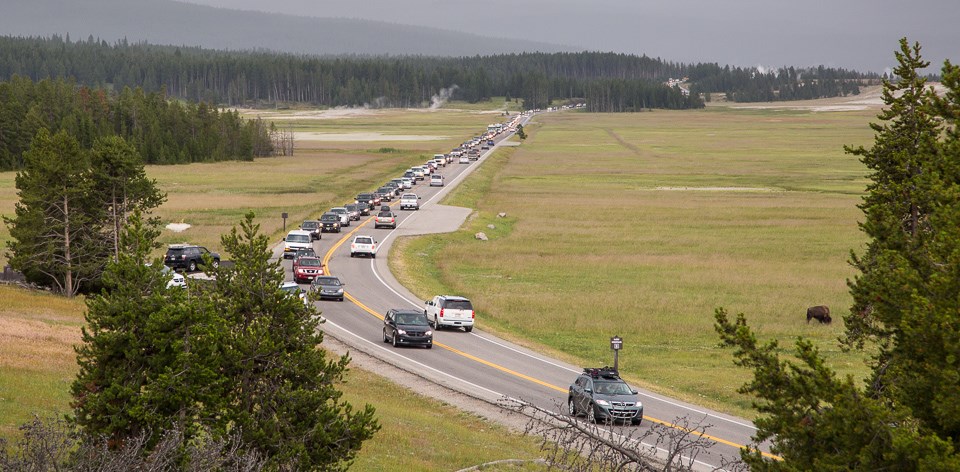 Phase 1: 2016
To better understand the vehicular capacity of the park, we commissioned a study to analyze traffic and parking conditions in the summer of 2016. In particular, we wanted to:
Document how people move through the park.
Evaluate conditions at key intersections, roads, parking areas, and entrances.
Analyze congestion problems at several key locations.
Understand the vehicular capacity of the park.
Provide recommendations for next steps.
Data was collected over a three-day period from August 14 to 16, 2016 using a variety of traffic counters, video recorders, and direct observation by members of the study team. This data was coupled with year-round gate and traffic counter data collected by the NPS to inform the results of this study.
Key Findings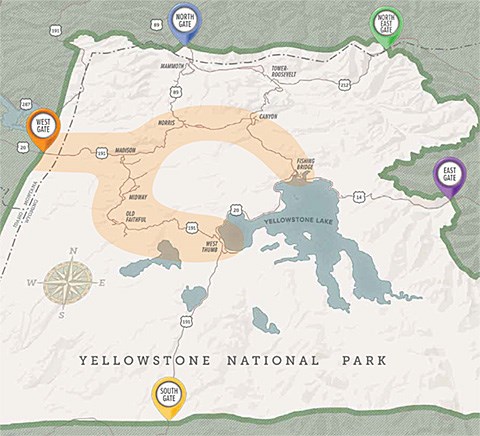 Routes
The study examined the routes traveled by visitors between each of the park's five entrances. They most commonly traveled routes included:
Trips entering and exiting through the West Entrance that included a stop at Old Faithful.
Trips between the West and South entrances that included a stop at Old Faithful.
Roads
In heavily-used corridors like the West Entrance, mid-summer traffic volume is roughly 30% higher than roads and parking lots can comfortably and safely handle. During July, vehicles travel in tight groups following closely behind one another nearly 60% to 80% of the time. Traffic volumes repeatedly approached levels where road performance begins to decrease rapidly with additional vehicle volume.
Parking
During much of the summer, demand for parking exceeds capacity from late morning through late afternoon at the park's most heavily visited attractions, especially the geyser basins and overlooks at the Grand Canyon of the Yellowstone.
Capacity
Vehicular demand for roads and parking in Yellowstone is expected to exceed capacity between 2021 and 2023.
Download
Download Full Report (5mb PDF file)
Prepared by Otak, in association with Fehr & Peers Transportation Consultants
Phase 2: 2018
To better understand vehicle flow, parking, and intersection conditions in the corridor between the West Gate and Old Faithful, we commissioned a second phase of the 2016 Transportation and Vehicle Mobility Study.
Phase II documents existing transportation and visitor use conditions along the corridor between the West Gate and Old Faithful, analyzes the relationship between vehicle numbers in the park and parking lot capacities, and assesses how often Madison Junction and other intersections are over capacity. The study simulates three hypothetical mitigation strategies:
Scenario 1: A roundabout and Hi-T configuration at Madison Junction
Scenario 2: Distributed traffic demand – what happens when traffic volume is capped at the maximum capacity that Madison Junction can handle, and the remaining visitors are distributed to earlier or later hours?
Scenario 3: Managed corridor – what happens when access to Grand Loop Road between Madison Junction and West Thumb is limited based on maximum parking capacity in the corridor lots?
Key Findings
The total number of vehicles entering the park before geyser basin parking lots reach capacity is about 9,300 vehicles.
Madison Junction is over capacity for 13% of the day during 5% of season but is projected to be over capacity 73% of time during the day for 49% of season by 2025.
Each scenario has tradeoffs and unintended consequences and no one strategy will solve all problems.
A roundabout improves Madison Junction more than a Hi-T, but without other management methods, other intersections and parking lots worsen.
While distributing demand was expected to have a "smoothing" effect, it had a negative effect on other intersections because it increased the number of vehicles already in the park.
Managing the volume on the Madison to West Thumb corridor improved the level of service at all intersections except Madison Junction.
Managing the volume on the Madison to West Thumb corridor and a roundabout at Madison Junction improves queue length at all parking areas except at Biscuit Basin.
Managing the corridor and parking does not fix all problems but does alleviate a portion of the congestion on the corridor.
Download
Download Full Report (8mb PDF file)
Prepared by Otak, in association with Fehr & Peers Transportation Consultants
Last updated: January 20, 2022