Office of the Superintendent
Yellowstone is the world's first national park -- an idea that has spread throughout the world. The park is special because of its geothermal wonders (more than 10,000 geothermal features, including the world's greatest concentration of geysers), its vast landscape and wildlife species (one of the last, largest, mostly intact temperate-zone ecosystems on earth), its tapestry of cultural resources that span over 11,000 years, and its unparalleled opportunities for visitors.
Managing a park like Yellowstone requires dedicated public servants at every level of the organization. With 2.2 million acres, Yellowstone has a staff of approximately 1,000 National Park Service employees and volunteers in the summer months (roughly 330 employees year-round). These people are led by a Superintendent and Deputy Superintendent who both have long, distinguished careers with the National Park Service (biographies below).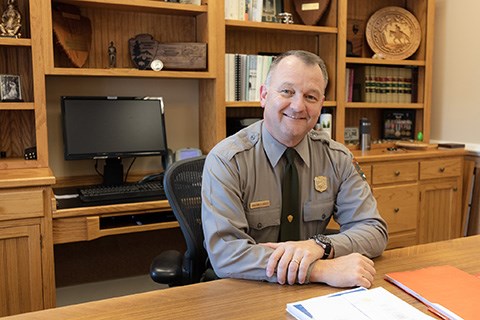 Cameron (Cam) Sholly assumed duties as the superintendent of Yellowstone National Park in October of 2018. Yellowstone is one of the largest national park operations in the world spanning 2.2 million acres and receiving over 4 million visits each year. The park has a team of over 1,000 employees and volunteers and an annual budget exceeding $60 million. Cam is a third-generation park service manager and began his National Park Service (NPS) career in 1990.
Upon arriving at Yellowstone, Cam worked with Yellowstone's team to set new strategic priorities for the park focused on the Yellowstone workforce, strengthening the Yellowstone ecosystem, delivering a world-class experience, investing in infrastructure, and building coalitions and partnerships. The park is currently in the process of completing a $40 million employee housing improvement project, expanding the bison conservation transfer program, combatting non-native species, developing a more focused approach to ecosystem management and climate change challenges, implementing a new strategy for managing increased visitation, and preparing to execute over $120 million in historic preservation and transportation projects as part of the Great American Outdoors Act. Cam is currently the chair of the Greater Yellowstone Coordinating Committee, an executive group of federal and state managers spanning three states within the Greater Yellowstone Ecosystem.
Cam has served in a variety of other senior leadership positions throughout his career. His previous executive assignments include regional director, Midwest Region, where he oversaw 61 national park units in 13 different states, and associate director, Visitor and Resource Protection (NPS HQ), where he led an extensive national portfolio of NPS programs and operations. Cam also served previously as the superintendent of the Natchez Trace Parkway, deputy associate director for Visitor and Resource Protection (NPS HQ), special assistant to the director (NPS HQ), chief of ranger operations in Yosemite National Park, and a variety of other field positions.
As midwest regional director, Cam oversaw the completion of the largest public/private partnership in NPS history, a $380 million renovation of the St. Louis Arch. As associate director, Cam implemented a system-wide national safety strategy to improve employee safety and revamped a wide range of major NPS policies and directives, including those that govern wilderness management, fire and aviation, and law enforcement.
Cam holds a bachelor's degree in management from Saint Mary's College of California and a master's degree in environmental management from Duke University. He is a graduate of the Harvard University Senior Executive Fellows Program and the FBI National Academy. He is a veteran of the U.S. Army and deployed to Operation Desert Storm in 1991.
Cam was awarded the Superintendent of the Year Award for the Southeast Region in 2011 and the Department of Interior's Meritorious Achievement Award in 2015 for his wide-ranging executive leadership actions.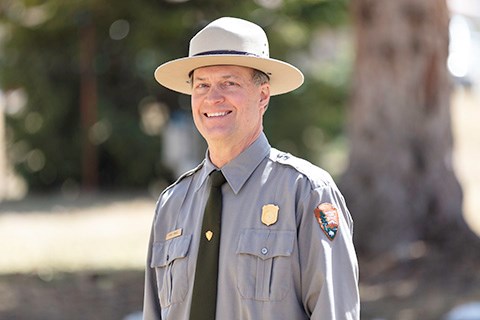 Mike Tranel became the deputy superintendent of Yellowstone National Park in February 2021. In this role, Mike essentially serves as the chief operating officer for the park. Yellowstone is one of the largest operations in the US National Park System with approximately 1,000 employees and volunteers. Mike is a 35-year veteran of the National Park Service and was most recently the superintendent of the Powder River Group in Eastern Montana and Wyoming where he oversaw Bighorn Canyon National Recreation Area, Little Bighorn Battlefield and Devils Tower national monuments, and Fort Laramie National Historic Site.

Originally from northern Wyoming and south-central Montana, Mike has spent much of his NPS career in Alaska at Denali National Park and serving as superintendent of Klondike Gold Rush National Historical Park. Other National Park Service assignments have included acting superintendent roles at Cape Lookout National Seashore and Jewel Cave National Monument; acting associate regional director for operations in the Alaska Region; special assistant to the Alaska regional director; special assistant to the director of the NPS; and chief of planning at Denali National Park. Mike served as a park ranger early in his career at Ocmulgee National Monument and Gulf Islands National Seashore and he was chief ranger at Timpanogos Cave National Monument before moving to Alaska.

While chief of planning at Denali, Mike published several articles on protected area management in national and international journals and served on three international assignments in Sweden, South Africa, and China, in which he provided advice to other national park systems on sustainable tourism. During his acting and permanent superintendent roles, he has been recognized for leadership in employee development, creative partnership projects, and improving the efficiency of park operations.

Mike has a bachelor's degree in American studies/earth science from the University of Notre Dame and a master's degree in geography from the University of Iowa. He graduated from Billings Central High School in Billings, Montana, and grew up one of 10 siblings near Big Horn, Wyoming, and Ashland and Broadview, Montana.
Last updated: November 22, 2021