Office of Strategic Communications
The Office of Strategic Communications promotes the park and its high-priority issues using today's best practices. Whether we are targeting internal or external audiences, our creative and innovative tactics lead to public and employee engagement that makes a positive impact on Yellowstone.
The office offers a wide variety of services, products, and guidance related to strategic vision/planning, media relations, digital communications, and internal communications. Examples of efforts include The Yellowstone Pledge, What We Do Wednesdays, Bison Management, Clean, Drain, Dry, A Bear Doesn't Care, and news releases.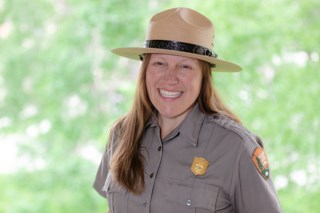 Morgan Warthin - Public Affairs Specialist
With an eye towards research, planning, implementation, and evaluation, Morgan manages the public affairs and media relations program. As the media spokesperson, she promotes clear, accurate, and engaging communications about the park.
Prior to Yellowstone, Morgan supported Alaska's national parks for 14 years doing wildland fire communications and education, crisis and internal communications, and facilitation. She's a fifth generation Montanan who fell in love with Yellowstone at an early age and began her career in the park. From 1996-2001, she worked as an interpretive ranger, on trail crew, and as a backcountry ranger. Morgan received a B.A. in language and literature (with an emphasis in Old English) at Bard College in New York.
#RingofWordsUnlocksTreasures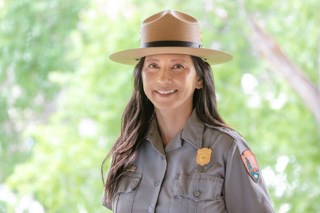 Linda Veress - Public Information Specialist
Linda serves as the first line of contact for news media and public affairs inquiries. She researches and responds to requests for information about park issues from the public, news media, stakeholders, and other government agencies. She develops, writes, and disseminates routine communications such as news releases and acts as a spokesperson for the park.
Linda began her National Park Service career in 1990 at Yosemite. After several years as a seasonal ranger there and in the wilds of Denali and Yellowstone, she was hired on permanently at Big Bend National Park. She has worked primarily for Resource and Visitor Protection, but has held a wide variety of jobs spanning all divisions. She has been fortunate to live and work at many of the crown jewels of the national park system, including Sequoia and Kings Canyon, Hawai'i Volcanoes, Olympic, Redwoods, Mount Rainier, and Grand Canyon national parks.
#MakeItHappen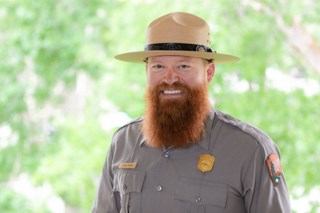 Jake Frank - Audiovisual Production Specialist
Jake works to visually communicate the priorities established by the Office of Strategic Communications. He is the primary digital content creator for the office and manages the park's social media accounts. He also hosts park InstaMeets and operates the camera during our Facebook and Instagram live broadcasts. He participates in department-level media advisory groups, hosts department-wide trainings, and occasionally details to other parks for special events when photos and videos are needed.
After receiving a B.S. and M.S. in Recreation, Parks, & Tourism at the University of Florida, Jake moved out west to pursue his career with the National Park Service. His seasonal time was spent in the Division of Interpretation at Grand Teton, Glacier, Carlsbad Caverns, Denali, Rocky Mountain, and Yellowstone national parks. He spent a short time working for a non-profit as a social media manager, videographer, and photographer before becoming the permanent visual information specialist at Glacier National Park in 2014. While in Glacier, Jake managed the park social media accounts and worked on projects involving photography, videography, and web and print publications.
#RangerBeard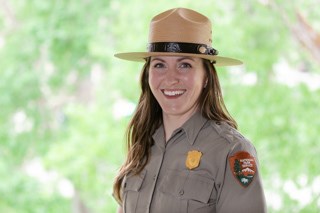 Bethany Gassman - Internal Communications
As the first person to hold this position in the park, Bethany provides employees and partners with up-to-date information they need to perform their daily jobs. She also facilitates two-way conversations between the Senior Leadership Team and National Park Service employees. Currently Bethany serves as a national Workforce Ambassador, and is also an NPS facilitator for Green Dot Bystander Intervention and Operational Leadership.
After working two summer seasons in Yellowstone, Bethany completed her B.S. in Recreation, Parks, and Leisure Services at Minnesota State University with a focus on Therapeutic Recreation. In 2011, she accepted a supervisory position with the park upon completion of her Master's in Communications. In 2014 she worked as a Law Enforcement Support Assistant, and in 2016 she joined the newly created Office of Strategic Communications.
#GoodGrief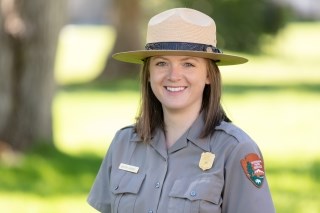 Ashton Hooker - Digital Communications Specialist
Ashton works to communicate park management priorities on the park's digital platforms by working on web, social media, public affairs, and graphic design projects.

After receiving a B.S. in environmental science and journalism from Texas Christian University, she led backpacking and mountaineering expeditions in Arkansas and Colorado and worked in marketing and communications before receiving an M.A. in environment/natural resources and communication from the University of Wyoming. There, she taught media writing and editing courses and investigated how Instagram influences tourism to Yellowstone National Park. Prior to working for the Office of Strategic Communications, she led the data collection for Yellowstone's summer visitor use study, which deepened her interest in visitor use issues and how media and messaging influence visitation and visitor behavior in parks.

#HeyYall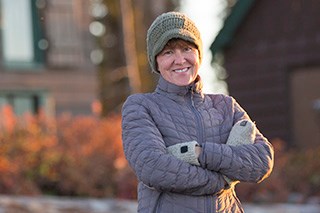 Jennifer Jerrett - Audio Producer
Jennifer is an audio producer, editor, and natural sound recordist who contracts with the Office of Strategic Communications through the support of Yellowstone Forever and the Montana State University Library. Including Telemetry: the park's science and nature podcast, Yellowstone's 1610 AM radio station, and a comprehensive natural sound library boasting dozens of public-domain audio files, her "Sounds of Yellowstone" project is the first of its kind in the NPS.
Jennifer studied radio production with the Transom Story Workshop on Cape Cod, and later became a teaching assistant for the organization. Her stories have aired on public radio stations and shows around the country; one of them won a Public Radio News Director Award for the best use of sound. Jennifer has lived in some of the most far-flung corners of the planet, including Antarctica, Mongolia, rural Utah, and Yellowstone National Park. She holds a B.A. from Arizona State University.
#SignalToNoise
Last updated: July 20, 2020